Lundi 21/05/18 à 12:27 par Firebrand
Une nouvelle version de cet émulateur Atari 2600 a été publiée. Voici la liste des nouveautés:
- Fixed bug with SaveKey autodetection; some ROMs were not correctly detecting that a virtual SaveKey device was plugged in. - This notably fixes issues in "Super Cobra" and "Scramble" ROMs.
- Make previously mentioned ROMs use the SaveKey device by default.
- Fixed bug in UI navigation with joystick hat movement.
Lundi 21/05/18 à 12:22 par Firebrand
Cet émulateur Commodore 64 pour OSX a été mis à jour. Les améliorations sont les suivantes:
- Mouse support has been added. Three different mouse models are emulated (Commodore 1530, Commodore 1531, and Neos).
- Both sound engines from VICE 3.1 have been ported to VirtualC64 (ReSID in version 2010 and FastSID).

Dimanche 20/05/18 à 12:50 par Firebrand
Cette nouvelle version de VICE marque des changements au niveau de l'émulateur. Il se focalisera sur ses ports GTK3/SDL et les autres seront abandonnés. De plus, seule la version Windows 32-bit est compilée, pour les autres vous devrez visiblement vous débrouiller avec les sources... pas très user friendly. A voir si les prochaines versions auront droit au même traitement. En attendant, voici les modifications apportées:
This release marks the end of the legacy ports (native Amiga, BeOS/Haiku, OS/2, DOS, Xaw/Gnome2/Gnome3, Cocoa and Windows) ports, and we will be switching to SDL1/2 and *nix/Windows/OSX native GTK3 ports for all future releases.
The only binary distribution that we are providing for VICE 3.2 is the nightly windows build on the date of release.

General
- New (experimental) GTK3 native port, this and the SDL(2) port will replace all other ports (which will get removed) in VICE 3.3 and onward.
- Handling of the `-keybuf` command now works properly for all emulators and RAM sizes.
- Fixed handling of LOAD"$$" with virtual devices.
- Fixed @CD, @MD and @RD commands for virtual filesystem devices.
- Fixed NEOS Mouse emulation.
- Call the new CIA "8521" instead of "6526A" (which is wrong) in the UIs.
- Added 4sid support.
- Fixed tape wobble.
- Erase timing fixes in flash core.
- Don't allocate sectors on tracks > 70 in the BAM of 1571 images.
- Ethernet emulation: fix register mapping in rr-net mode.
- reSID: fixed envelope bugs shown by testprogs/SID/env_test/.
- Fixed 6509 CPU port issues.
- Added support for TAP virtual network interface.
- Fixed drive clock overflow. Drive and host went out of sync on clock overflow (every ~4G cycles), which would break loading or custom drive code in the case loader/stuff is not idle during overflow window. Also drive would execute ~4G cycles out of sync, which made the emulator freeze for a while.

Monitor
- Fix monitor 'm' command buffer overflow.
- Added conditional on values in memory to breakpoint handling.

SDL changes
- Cosmetic overhaul of the SDL UI.
- New drag'n'drop support for the SDL2 port(s).
- Fixed monitor display of printables with the 'M' (memdump) command.
- Fixed drive status display in statusbar.
- Added "advance frame".
- Disable the mouse pointer unless we really need it.
- Change MacOSX SDL menu key to F10 to accommodate old MacBooks etc.
- Change default menu key for sdl amiga based platforms to 'F10'.
- Added default hotkey files (with hotkeys similar to existing GUIs).
- Added various keymaps for use with keyrah in combian/retropie.
- Added controller mapping file for PS3 controller.

Android changes
- Do not enable mouse emulation by default.

Mac OS X changes
- Reinstated the Cocoa UI's Video Settings dialog. Some of the controls don't work properly, but it's better than nothing.
- Added a PET model selection menu to the Cocoa UI.
- Fixed Cocoa UI's CPU memory window display. It still requires the monitor to be activated before it will show anything, however.

OS/2 changes
- Removed native OS/2 port. The native OS/2 port has been lagging behind severely, and the recently added SDL OS/2 port is up-to-date, making the unmaintained native OS/2 port obsolete.

C1541 changes
- Fixed illegal characters in filenames for the read and extract commands.

C64(SC) changes
- Fixed enabling/disabling memory expansion hacks.
- New tapecart emulation.
- Added waasoft dongle emulation.
- Fixed initial cpuport data.
- Added support for 256k magic desk images, ie DDI Magic Cart. Also allow 512k and 1M magic desk carts (some homebrew variant).
- plus60k memory write fix.
- Fix plus256k emulation.
- Added fmopl (sfx sound expander) timer support.
- Fixed saving of GMOD2 cartridge image.

C128 changes
- New tapecart emulation.
- Fixed MMU mirrors.

CBM2 changes
- Allow+fix loading of 8k chargen.
- Fixed ESC-Z/ESC-Y.
Highscore.dat (unofficial) 18/05/2018
Samedi 19/05/18 à 14:36 par Firebrand
Ce fichier vous permettant de conserver certains hi-scores sur MAME a été mis à jour pour MAME v0.197.
GameEx et GameEx Arcade Edition v15.27
Samedi 19/05/18 à 14:34 par Firebrand
Aucun changement de numéro de version, pas de notes de publication... difficile de dire ce qui a changé dans cette version de GameEx dont le site officiel note toutefois une mise à jour. C'est la deuxième fois que cela arrive. Les changements sont probablement mineurs, mais à vous de tester!
Vendredi 18/05/18 à 14:03 par Firebrand
Cet émulateur PC-Engine a été mis à jour. Les améliorations sont les suivantes:
- Fixed a bug that the display-lag countermeasure implemented in v2.88 was not working in many PC environments of Windows 8/10/Aero.
*In the case of operation on Win8/10 or Aero, Windows automatically performs V-Sync processing. therefore, 1 frame delay buffer is included. So, compared to WinXP or non-Aero Vista/7, one frame delays appears absolutely. Still, compared to Ootake2.87 or earlier, I succeeded in shortening the delay of about 1 to 2 frames.
*With the most excellent Win7(non-Aero setting), it is about 1 frame lag compared to the real PC Engine. It is the result I measured by connecting to the same liquid crystal display(about 1 frame lag).
*A common low-cost PC game pad (you need to press the four-way key deeply) has "physical delay on its game pad itself". Please use an easy to operate game pad like a consumer game machine. Examine the net information and you will find a good game pad. Incidentally, controller of PS4(sony) can also be used with Ootake.
- In "Space Harrier", "Power Drift", HES files etc, (a game with many reference times of controller), fixed a bug that the operation was extremely heavy (occurred in v2.88, processing was heavier when XInput compatible game pad was disconnected).
- When "3-Button Pad" is connected, hold down the "Function Button" and press the [IIIr] button, you can start another game from the recent history. You can also shoot screenshots with the [IIIs] button while holding down the "Function Button". ("Function Buttons + RUN or SELECT" can also be used as before)
- When "6-Button Pad" is connected, hold down the "Function Button" and press the [III] button, you can start another game from the recent history. You can also shoot screenshots with the [IV] button while holding down the "Function Button". ("Function Buttons + RUN or SELECT" can also be used as before)
- Additionally, a detailed part has been improved and corrected.
Jeudi 17/05/18 à 13:15 par Firebrand
La dernière beta de WinUAE est maintenant disponible en français grâce à Tradu-France.
WinUAE v4.0.0 Beta 10 (32-bit)
Mercredi 16/05/18 à 11:11 par Firebrand
Une nouvelle beta a été publiée pour cet émulateur Amiga qu'on ne présente plus. Voici la liste des nouveautés:
- Full-window mode captured mouse (and moved it to center of screen) even when window didn't have focus.
- Removed single buffer display option, it was only useful when using old low latency vsync mode.
- Help button now asks for opening online help version if help file is not installed. (not finished yet)
- Added windowed mode resize enable/disable option. Default is enabled.
- Added D3D11 standard vsync black frame insertion support. (100Hz/120Hz)
- Action Replay II/III statefile support improved. (For example AR state was invalid when loading AR statefile when AR was already active)
- On the fly switching between fastest possible <> non-fastest possible CPU modes in lagless vsync caused hang in certain situations.
- Debugger: show number of cycles used when tracing (t, z, breakpoints). Only shown if max 2 frames since last debugger activation. (TODO: should also count number of memory accesses and no-wait state minimum cycle count)
- Freezer cartridge automatic RTG switch on/off wasn't reliable.
- Removed forgotten, useless and obsolete "The selected screen mode can't be displayed in a window, because.." check.
- 68030 MMU PLOAD R variant (R/W bit=1) caused f-line exception.
- Clear both ping-pong buffers when pausing/unpausing WASAPI exclusive sound mode.

Mercredi 16/05/18 à 11:08 par Firebrand
Cet émulateur MSX 1 et 2 vient d'être mis à jour. Les améliorations sont les suivantes:
- lets you pause replay at any time with the UP button and then browse through it backwards and forwards with LEFT and RIGHT buttons. Once satisfied, you can resume replay with UP, or continue playing by pressing any other button.
NPlayers.ini et NPlayers32.ini v0.197
Lundi 14/05/18 à 13:15 par Firebrand
Ces fichiers permettant de trier les jeux MAME par nombre de joueurs a été mis à jour pour MAME v0.197.
Vendredi 11/05/18 à 12:36 par Firebrand
Cet émulateur GameBoy Advance a été mis à jour. Les améliorations sont les suivantes:
- fixes a bug when writing bytes to palette memory, and another bug that occurred when reading words from the BIOS area (something no sensible person should do, but some games have done). I also removed outdated code, rebuilt the program with strict compiler warnings, and fixed them.

Jeudi 10/05/18 à 13:37 par Firebrand
Grâce à la rapidité de Tradu-France, la version traduite en français de la dernière beta de WinUAE est déjà disponible.
Jeudi 10/05/18 à 13:35 par Firebrand
Et encore une nouvelle version beta pour WinUAE. En voici les améliorations:
- D3D11 mode screen was not fully refreshed when returning back to fullscreen RTG mode with ALT-TAB/GUI exit
- Inserting or removing USB device with very long internal device name caused a crash.
- Inserting USB device may have also logged some other already connected device as newly inserted.
- Fixed JIT FPU FETOXM1.
- If D3D11 mode with level 9.x hardware: test in init phase if main texture creation succeeds, fallback to D3D9 if it fails. It may unexpectedly fail with some old and broken drivers. Previously it would have caused blank screen.
- RTG screen was not updated if only hardware mouse cursor moved and RTG OSD was not enabled or multithreaded RTG was not enabled. (b8)

Mercredi 09/05/18 à 12:29 par Firebrand
Une nouvelle version de cet émulateur Commodore 64 pour MacOS a été publié. Les améliorations sont les suivantes:
- This release contains several compatibility improvements. My special thanks go to David Horrocks, the author of Hoxs64. By peeking into his source code, I was able to rule out a couple of incompatibilities in my own code.
- The eagle soft loader bug has been resolved. Maniac Mansion and Zak McKracken load fine now.
- Fixed a bug that caused the emulator to crash when clicking an empty row in the disk user dialog.
- Fixed a bug that caused a press of the TAB key not to be recognized.
Emu Loader v8.5.7 (mise à jour)
Mardi 08/05/18 à 12:47 par Firebrand
Une nouvelle mise à jour a été publiée pour ce frontend multi-systèmes. Voiciles nouveautés:
Seduced by the dark side, Emu Loader was. Yes, hmmm.
More dark themed stuff. Messages box succumbed to the darkness... but it can be turned back to the good side with the unticking of a checkbox.
Additional tweaks to Neo-Geo MVS (run multiple Neo-Geo games). Plus, more bug fixes.

Fixed
- Severe memory leaks after closing the clean install dialog (1 thousand memory blocks), caused by two TStringList vars
- All selected Neo-Geo MSV games are listed in "Run Game Confirmation Dialog" if you select a Neo-Geo machine with less cart slots

Changed
- Remade some console/computer system icons so they can be properly used with dark backgrounds

Added
- Dark themed message box... lights out!
*just tick the new "Night Mode" checkbox in the dialog's lower left corner
*since the RichEdit text colors cannot be changed "on-the-fly", it will only take effect next time the dialog appears
- "Multi-slot Machine" text added to show the selected "Neo-Geo MVS" machine before listing the games ("Run Game Configirmation Dialog")

Lundi 07/05/18 à 12:59 par Firebrand
Une nouvelle version de développement de cet émulateur Amiga est disponible mais uniquement pour Windows. Aucune information à son sujet n'a été donnée.
Lundi 07/05/18 à 12:54 par Firebrand
Ca fesait un moment qu'on n'avait pas eu de nouvelle de ce build de MAME pour Ubuntu. Il est maintenant à niveau de MAME v0.197:
In sync with upstream at last! Packages ready for Ubuntu Artful Aardwark 17.10 and new LTS Ubuntu Bionic Beaver 18.04.
The usual amount of issues solved, mainly dealt with by Debian maintainer Jordi Mallach. Thank you Jordi!
Advice for non-PPA users: please note that an updated package for RapidJSON is required for artful; you'll need to download it as well. What about adding the PPA to your sources? :-)
Fin du temps d'attente pour le téléchargement des ROMs
Lundi 07/05/18 à 09:58 par Dinofly
Lorsque nous avons lancé Planet Emulation, les formules d'hébergements de sites web étaient limitées en termes de traffic autorisé; c'est pourquoi nous avions mis en place une limite au nombre de téléchargements de ROMs par utilisateur, basée sur la taille des fichiers. Aujourd'hui nous estimons que cette limite n'a plus lieu d'être, et nous l'avons donc supprimée.
Vous pouvez donc désormais télécharger sans limite, en espérant que vous resterez raisonnables !
Dimanche 06/05/18 à 14:35 par Firebrand
Les journées se réchauffent, les tenues s'allègent et on a envie de ressortir le barbecue (si on en a un). Néanmoins, une bonne petite partie de jeu vidéo reste une valeur refuge si un temps prévu clément tourne au vinaigre.

L'utilisation d'une console virtuelle peut très bien remplir cet office. Voyons ce que les utilisateurs de ces fonctions en pensent dans le sondage du mois dernier.





Sans surprise, c'est la facilité d'utilisation qui remporte haut la main vos choix. Pas besoin d'un deuxième tour. Pas de réglage à faire, on paie, on télécharge, on joue.
Pour les deux autres choix, vous êtes presque a égalité, mais on note que le fait d'avoir vos jeux sur toutes les machines disponible et plus important que leur portabilité.


Pour le mois de mai, on va revenir sur de l'émulation plus traditionnelle. Cette fois, nous allons nous intéresser au type de machine de prédilection pour l'émulation.Préférez-vous émuler les consoles, les vieux micro-ordinateurs, une bonne vieille borne d'arcade ou vous passionnez-vous pour les systèmes plus exotiques comme en propose MAME/MESS en quantité? A vous de jouer!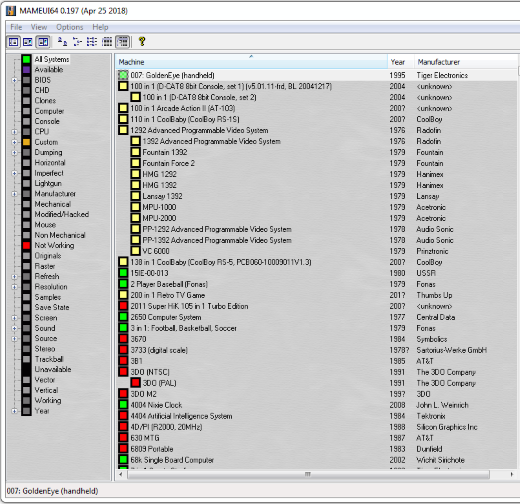 MAME émule une variété considérable de machines différentes.



Vous pouvez venir défendre votre choix sur notre forum!
Dimanche 06/05/18 à 13:03 par Firebrand
Toujours aussi réactifs chez Tradu-France, la traduction en français de la dernière beta de WInUAE est déjà disponible!
Dimanche 06/05/18 à 13:01 par Firebrand
Une nouvelle beta pour WinUAE a été publiée. Voici la liste des améliorations:
- CL horizontal doubling used wrong width size, fixed buffer overflow (b7).
- CL horizontal doubling multiplier changed to 9/10. Old value missed 320*200 resolution.
- 64-bit host FPU FMOVECR constants that didn't fit in double were clamped to max when they should have been set to infinity.
- All logarithmic and trigonometric functions now use assembly code from existing JIT functions in new 80-bit host FPU mode. This should be feature complete now.
- Multithreaded RTG now only does color conversion/copy in separate thread, present() is done in main thread because of possible thread safety problems.
- Added quite pointless power led switches off/dims misc panel option. Affects OSD power led and D3D led overlay power led brightness.