Lundi 07/05/18 à 12:54 par Firebrand
Ca fesait un moment qu'on n'avait pas eu de nouvelle de ce build de MAME pour Ubuntu. Il est maintenant à niveau de MAME v0.197:
In sync with upstream at last! Packages ready for Ubuntu Artful Aardwark 17.10 and new LTS Ubuntu Bionic Beaver 18.04.
The usual amount of issues solved, mainly dealt with by Debian maintainer Jordi Mallach. Thank you Jordi!
Advice for non-PPA users: please note that an updated package for RapidJSON is required for artful; you'll need to download it as well. What about adding the PPA to your sources? :-)
Fin du temps d'attente pour le téléchargement des ROMs
Lundi 07/05/18 à 09:58 par Dinofly
Lorsque nous avons lancé Planet Emulation, les formules d'hébergements de sites web étaient limitées en termes de traffic autorisé; c'est pourquoi nous avions mis en place une limite au nombre de téléchargements de ROMs par utilisateur, basée sur la taille des fichiers. Aujourd'hui nous estimons que cette limite n'a plus lieu d'être, et nous l'avons donc supprimée.
Vous pouvez donc désormais télécharger sans limite, en espérant que vous resterez raisonnables !
Dimanche 06/05/18 à 14:35 par Firebrand
Les journées se réchauffent, les tenues s'allègent et on a envie de ressortir le barbecue (si on en a un). Néanmoins, une bonne petite partie de jeu vidéo reste une valeur refuge si un temps prévu clément tourne au vinaigre.

L'utilisation d'une console virtuelle peut très bien remplir cet office. Voyons ce que les utilisateurs de ces fonctions en pensent dans le sondage du mois dernier.





Sans surprise, c'est la facilité d'utilisation qui remporte haut la main vos choix. Pas besoin d'un deuxième tour. Pas de réglage à faire, on paie, on télécharge, on joue.
Pour les deux autres choix, vous êtes presque a égalité, mais on note que le fait d'avoir vos jeux sur toutes les machines disponible et plus important que leur portabilité.


Pour le mois de mai, on va revenir sur de l'émulation plus traditionnelle. Cette fois, nous allons nous intéresser au type de machine de prédilection pour l'émulation.Préférez-vous émuler les consoles, les vieux micro-ordinateurs, une bonne vieille borne d'arcade ou vous passionnez-vous pour les systèmes plus exotiques comme en propose MAME/MESS en quantité? A vous de jouer!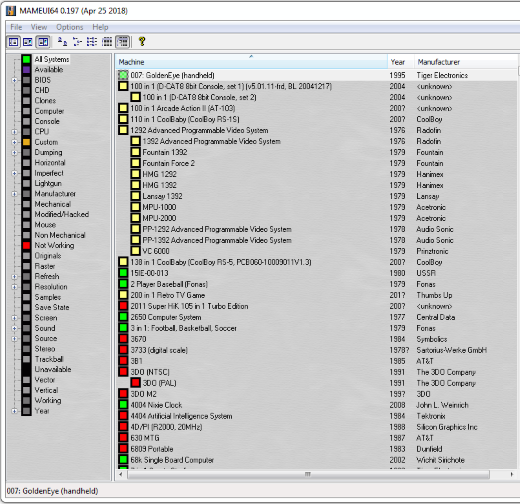 MAME émule une variété considérable de machines différentes.



Vous pouvez venir défendre votre choix sur notre forum!
Dimanche 06/05/18 à 13:03 par Firebrand
Toujours aussi réactifs chez Tradu-France, la traduction en français de la dernière beta de WInUAE est déjà disponible!
Dimanche 06/05/18 à 13:01 par Firebrand
Une nouvelle beta pour WinUAE a été publiée. Voici la liste des améliorations:
- CL horizontal doubling used wrong width size, fixed buffer overflow (b7).
- CL horizontal doubling multiplier changed to 9/10. Old value missed 320*200 resolution.
- 64-bit host FPU FMOVECR constants that didn't fit in double were clamped to max when they should have been set to infinity.
- All logarithmic and trigonometric functions now use assembly code from existing JIT functions in new 80-bit host FPU mode. This should be feature complete now.
- Multithreaded RTG now only does color conversion/copy in separate thread, present() is done in main thread because of possible thread safety problems.
- Added quite pointless power led switches off/dims misc panel option. Affects OSD power led and D3D led overlay power led brightness.

Samedi 05/05/18 à 13:03 par Firebrand
Cette nouvelle version de RetroArch met surtout en avant une nouvelle interface. Comme toujours, les release notes très explicatives et richement illustrées sont disponibles sur le site officiel. En attendant, voici le résumé des changements:
- AUDIO: Audio mixer supports FLAC/MP3 file types now!
- COMMON: Fixed bug 'crashing in cores that don't range check retro_set_controller_type'. Some people were having crashes when device is set to RETRO_DEVICE_NONE and the cores don't check the number of ports, in VBAM's case it was overflowing and crashing. QuickNES was crashing too.
- COMMON: Fixed buffer overflow in url encoding (affecting MSVC2010/2013).
- COMMON: (QuickMenu) Added Configuration Override submenu.
- HID: Merge new HID subsystem.
- HID: Fix WaveBird support for the Wii U GCA.
- HID/OSX: Fix regression with IODHIDManager – gamepads which are connected later would not be autoconfigured.
- LOCALIZATION: Update Italian translation.
- LOCALIZATION: Update Japanese translation.
- LOCALIZATION: Update Portuguese translation.
- MENU: New WIMP Qt GUI!
- MENU: Audio mixer now works in the menu without any cores loaded. You have to enable the setting 'Enable menu audio' for this to work.
- REMAPPING/OVERLAYS: Fix regression – overlays could no longer be remapped.
- SCANNER: Add Wii Backup File WBFS support.
- X11: CRT SwitchRes support for X11/Linux.
Vendredi 04/05/18 à 12:56 par Firebrand
Une nouvelle version de ce fichier informatif pour MAME a été publiée. Voici les modifications apportées:
- Added many info for Japanese computers games (x68k, pc98, etc...)
- 5802 lines added/updated according to WinMerge.

Emu Loader v8.5.6 (mise à jour)
Jeudi 03/05/18 à 12:59 par Firebrand
Le chasse aux bugs continue avec cette nouvelle version d'Emu Loader. Voici ceux qui ont été éliminés:
Fix out of focus bug at startup, take 3... action!
This time it's gone for good. Thank you Geoman for helping with beta tests. Another bug resisting the purge was arcade emulator filename being emptied when detecting a new MAME build at startup.
I hope I can get some rest now and actually enjoy using a "most of the time" bug-free frontend.

Fixed
- Holy crap-a-monium! Fix losing arcade emulator filename from "\arcade\emulators.ini" at startup, take three
*the info will be saved in .ini file only if emulator date/time stamp has changed
*whatever happens, current emulator info entries and system sections are no longer deleted from .ini file (garbage entries mode ON)
*only at "Arcade Emulator Setup" screen "emulators.ini" will change (add/delete entries and sections)
M- AMu_ icons folder path saving twice to "mame\ui.ini" after exiting "Preferences" screen
- MAMu_ icons folder path read from MAME and then read again from HBMAME (only MAME's "ui.ini" is used)

Changed
- Reverted back some function calls in main screen's OnShow() event to OnActivate() event like it was in EL v8.4.7 as the newer tweaks were causing weird problems
Jeudi 03/05/18 à 12:56 par Firebrand
Une nouvelle version de ce très bon émulateur PC-Engine a été publiée. Voici la liste des nouveautés:
- The display delay is removed by 1 frame.
- "Plus 2 frames delay" of Windows Aero(Windows Vista and 7) and Windows 8(8.1)/10 is also removed. Depending on the PC environment, together with the above, 3 frames delay is removed.
- "Remove Lag 3F", "Remove Lag 1F", "Remove Lag 0F" was added to "Screen" menu. You can toggle whether or not "the display delay reduction processing" described above. When "Remove Lag 0F" is selected, the same display delay as v2.87 or earlier version of Ootake will be obtained. Switching "3F" or "0F" on Aero (Win7/Vista) or Win8/10, I think that delays(lag) can be experienced with shooting games and sports games.
*In addition, I am planning to describe this delay reduction technology on the Ootake official website soon. http://www.ouma.jp/ootake/
- XInput compatible game pad can be used. By using Microsoft's driver, it was able to use it so far. In this version upgrade, if the input responds of XInput earlier, it will take precedence.
- Backup RAM (Ten no Koe 2) file has been formatted to save only the required 2KB. I think that this is probably interoperable with the save data of Mednafen(wonderful emulator!). You can also read the 8KB file("_bram.dat") saved in the past version and the backup RAM file(8KB) of another older PCE emulator.
- Fixed a bug (occurred in v2.87) in which buttons IV to VI sometimes did not work depending on the environment in 6-button pad compatible games.
- The timing approached the operation of the real machine. In "Terraforming", the problem that the screen collapsed (occurred from v2.81) has been resolved.
- In VS 2008 in my development environment, the setting at the time of build prioritized the operation speed.
- Additionally, a detailed part has been improved and corrected.
Jeudi 03/05/18 à 12:51 par Firebrand
Cet émulateur ColecoVision a été mis à jour. Les améliorations sont les suivantes:
- adds support for 2kB SRAM found in the Lord Of The Dungeon game. There is also support for the Super Game Module (SGM) hardware, 24c08 and 24c256 EEPROM chips, and other new hardware. Incompatibility between save states produced on 32bit and 64bit systems has been fixed as well.

Mercredi 02/05/18 à 13:05 par Firebrand
Ce frontend pour Medndafen a été mis à jour. Les améliorations sont les suivantes:
- [Windows] Fixed left trigger not working using XInput controllers (Thanks to Pcegames for report and testing).
- [Windows] Fix to accept up/right D-Pad inputs in controller setup on some conditions (Thanks to SatoXa for report and testing).
- [Linux] Use the 'MEDNAFEN_HOME' environment variable when it is set (Patch by denisfa).
- Some minor fixes.
Emu Loader v8.5.5 (mise à jour)
Mercredi 02/05/18 à 13:02 par Firebrand
Une nouvelle vague de correctifs a rapidement été publiée pour ce frontend multi-systèmes. Voici de quoi il s'agit:
If you're annoyed by the dreadful out of focus bug at startup like me, make sure to try this build.
Also, the arcade emulator filename is no longer updated when checking for a new build at startup, only file date/time stamp and version info.

Fixed
- Obscure bug: after updating arcade emulator version info at startup, the filename with full path is somehow deleted from "\arcade\emulators.ini"; filename is no longer updated, just file date/time and version info
- Out of focus bug at startup still haunts us, so the new init zip images form is replaced by a simple panel directly in the main screen

Changed
- The window "Layout Dimensions" will no longer be restored at startup to avoid the dreadul "out of focus" bug (accessible in images popup menu)
Mercredi 02/05/18 à 13:00 par Firebrand
On reste à l'affût chez Tradu-France, la traduction en français de la dernière beta de WinUAE est déjà disponible.
Mercredi 02/05/18 à 12:58 par Firebrand
Le versions beta continuent de s'enchaîner pour WinUAE. Voici le contenu de la dernière:
- Added debugger 'ex' command: 'e' command with extended data: last value written and PC of CPU or Copper when value was written.
- UAEGFX RTG 15/16/24-bit graphics corruption fixed (b1).
- If multimonitor mode and aviout/screenshot: capture/record from window that has focus.
- Added horizontal doubling to Cirrus Logic emulation, enabled if screen height * 0.75 >= width. Keeps aspect ratio if CGX doublescan graphics mode is configured.
- Native screen OSD was drawn twice in some multimonitor configurations, also could have caused crashes or some other weird behavior.

Extended precision host FPU mode updates:
- Some FPU instructions used wrong precision.
- Supports divbyzero, underflow, overflow and inexact2 status bits and exceptions. Only in non-JIT FPU mode. (and no software really cares)
- FCMP uses softfloat comparison code if more compatible is enabled (FCMP can't be directly mapped to host FPU), if not, it uses simple and quick test. (Difference: infinities, nans etc.. special cases only work in more compatible mode. No normal programs care, as usual)
- Uses softfloat routines for rarely used functions (most trigometric, fexpman, fscale etc). Previously: extended to double conversion -> c-library math function -> double to extended conversion. Which probably wasn't noticeably faster.

I think this is good compromise between speed and accuracy, commonly used operations use native code (that native FPU supports directly, x86 FPU does not directly support all operations that 6888x supports), complex and rarely used operations use softfloat code.

NOTE: Host FPU extended precision FPU emulation is now enabled by default and always overrides config file saved 64-bit mode. If something works strangely, load your config, change FPU mode to 64-bit/softfloat and try again: if it fixes the problem -> report the problem immediately.

Mercredi 02/05/18 à 12:55 par Firebrand
La version MacOS pour la dernière version de cet émulateur ZS-Spectrum est maintenant disponible.
Emu Loader v8.5.4 (mise à jour)
Mardi 01/05/18 à 13:07 par Firebrand
Une nouvelle version, sous forme de patch, de ce frontend multi-système a été publiée. Voici la liste des nouveautés:
Can you say... quad image layouts ? One more image panel for your viewing pleasure.
Tons of bugs were fixed in the build, lots of them reated to image panels and image layouts. I took the opportunity to separate the zipped images initialization code from images main functions. Also create a darn cute dark themed messages panel that appears just below the images. Showing the splash screen when changing categories/layouts was getting old.
Image category selector and image layout selector popup menu in images tool bar were replaced by improved dialogs. They were way too large and required a resolution of 1920x1080 to show all options. Tweaks were also made to fix bugs present in, now deprecated, popup menus.
Image layout splitters now redraw image panels while dragging them instead of just show a pattern line. This is an experiment and I hope it doesn't cause paiting problems or app crashes.
A new Use Custom Category for Console/Computer setting is available. You can have a set of image categories on the same layout for arcade and another set for MAME software list games, console/computer systems.
You can use cabinet for arcade and cover for MAME software list / console / computer. Everything is saved on the Feature can be enabled/disabled only in Image Layout Settings.
Added support for MAME v0.197 and expanded Neo-Geo MVS multi-slot machines. When running multiple arcade games you can now select between different multi-slot machines.
Select multiple Neo-Geo arcade games, and execute. You can change carts order and now the Neo-Geo machine. There are 6-slot, 4-slot, 2-slot and 1-slot machines to choose from.

Fixed
- Image layout splitters not restored correctly at startup for triple/quad layouts
- Zipped images contents list for MAME software lists not initializing correctly, causing them to not show up in preview images panel
- Image layout splitters not restoring to current positions after exiting "Image Category Settings" and "Image Layout Settings" screens
- Image category was not properly set to in-game snapshot at startup causing several problems:
*image panel settings not initialized correctly
*image hint panel settings not initialized correctly
*arcade emulator game snapshot folder setting was not being read from emulator config file
*zipped images was not initialized
- Fixes to clean install mode
*arcade emulator config file was not read/initialized
*arcade image folder paths were not being read/initialized
*tons of memory leaks caused by two vars that were not freed from RAM

Changed
- Interface tweaks in "Arcade Emulators Setup" screen
*button "Update System" renamed to "Reset System" and its help text changed to reflect what it actually does
*lowered dialog height and merged all buttons in the bottom bar where they belong
*aligned "Ok" and "Cancel" buttons to the right side of the dialog
*"MAME Ash" build label link removed since it's no longer updated, replaced by HomeBrew MAME
*changed font of "Autorun Game With AlterMAME" to the same as other labels and simplified its help text to be more clear
"Delete/Rename Preview Image" screen
*added "Dimensions: 0000x0000" label to show the image's resolution
*replaced category icon by a 68x68 sized monster and removed category title text
*interface tweaks
- Optimized uMain.DestroyImageLayoutControls function and removed fixed indexes of panels/splitters count
- Deleted "destroy controls" code in "uMain.SetImageLayout" function since it's an exact copy from uMain.DestroyImageLayoutControls function
- Replaced "image category selector" and "image layout selector" quick popup menus by improved dialogs in images tool bar buttons
*popup lists were too big for screen resolutions lower than 1080p
*68x68 monster sized icons for easier navigation
*disabled categories/layouts do not appear in the list
*select a category/layout with mouse double-click or ENTER key or "Ok" button
*abort operation with ESC key or "Cancel" button
*reduced RAM usage and code tweaks for future improvements
- Startup tweaks
*double-checked function calls to prevent them executing more than once
*moved some code from uMain.OnActivate() event to uMain.OnShow() event to help mitigate the "out of focus" bug
*fixed a really weird "out of focus" bug that prevents scrolling games with mouse wheel after games list is loaded
*remove a few function calls trying to set focus to the main games list without populating it first
- Replaced zipped images initialization messages in splash screen by a darn cute small msgbox below the images tool bar
*way easier to spot categoy/layout changes
*centered on main screen window in thumbnails view
*message texts no longer sent to splash screen
*action text and visual improvements are now possible
- Image layout splitters now update the image panel while dragging them instead of just show a pattern line (experimental)
- Clean install dialog interface changed to a dark theme (old light theme is gone)

Removed
- 2 TImageList components with 24x24 sized image categories/layouts icons and a TImageList with 68x68 arcade systems icons are no longer necessary as they are loaded on demand, directly from .ico files

Added
- Quad Image Layouts
*18 new image layouts to display 4 game preview images at the same time
*image panels cannot be hidden due to layouts mount complexity
*layout 1 have two modes: horizontal and vertical
.hor: a single horizontal splitter that separates up and down panels
.vert: a single vertical splitter that separates left and right panels
*hide layouts you don't want to use
*"Image Layout Settings" interface updated, 1024x768 / 1280x720 minimum screen resolution required
- New image layout setting "Use Custom Category for Console/Computer" ("Image Layout Settings" screen)
*define alternate image categories for MAME software games / console / computer systems
*dual / triple / quad layouts only; no point in doing this for single layout
*disabled by default, you can enable this setting in "Image Layout Settings" screen only *categories can be assigned to any panel
*unzipped and zipped images support
*image hint box in images preview panel is updated only when hovering the mouse on top of image panels, to maintain games scrolling high speed
*category background color is ignored to avoid heavy flickering while scrolling games
*useful to show "software cover" in place of "arcade flyer"
- Support new "Neo-Geo MVS" machines for MAME v0.197
*you can choose what Neo-Geo MVS machine to use when running multi-slot arcade games
*new file "arcade\mame_multislot_machines.txt" containing the valid list of machines; it can be manually updated when needed
*last used machine is restored next time you run multi-slot games
*when changing the machine to be used, games that exceed slot count are grayed out but can still be moved up/down in the list

Mardi 01/05/18 à 13:02 par Firebrand
Cet émulateur ZX-Spectrum a été mis à jour. Seule la version Windows est disponible pour le moment. Les améliorations sont les suivantes:
- Disable inactive peripherals after loading a snapshot
- Re-enable sound after phantom typist finishes loading TAP, standard ROM TZX or +3 DSK images
- Upgrade to libspectrum 1.4.2 to fix writing RZX files containing a snapshot which cannot be compressed

GameEx et GameEx Arcade Edition v15.27
Lundi 30/04/18 à 13:49 par Firebrand
Une nouvelle version de ces frontends multi-systèmes a été publiée. Aucune information sur les changements apportés n'a été donnée.
Final Burn Alpha v0.2.97.43 FR
Lundi 30/04/18 à 13:46 par Firebrand
La dernière version de Final Burn Alpha a été traduite en français par Tradu-France. En nouveauté, la version 64-bit est également disponible.
Lundi 30/04/18 à 13:41 par Firebrand
Cet émulateur multi-systèmes a été mis à jour. Les améliorations sont le suivantes:
- SNES: Fixed an off-by-1 bug in the PPU code that would cause writing past the end of the OAM tile list array.
- SS: Added "House of the Dead (Japan)" to internal database of games to use the data cache read bypass kludge with, to fix a game crash on the gun calibration screen.
- SS: Added "Virtua Fighter Kids (Java Tea Original)" and "World Series Baseball" to internal database of games to use the data cache read bypass kludge with, to fix gameplay glitches.
- Removed some unnecessary memory allocations in the old settings to argument parsing glue code.
- Fixed a crash bug with 2xSaI-family scalers during initialization(regression introduced in 1.21.0-UNSTABLE).
- Create the Mednafen base directory(e.g. ~/.mednafen) before opening the lockfile to fix a startup error when the directory does not already exist(regression introduced in 1.21.0-UNSTABLE).
- SS: Added kludge to fix layer offset problem in "Alien Trilogy".
- SS: Added "WipEout" to internal database of games to use the data cache read bypass kludge with, to fix a hang that occurred when trying to exit gameplay back to the main menu.