Jeudi 26/09/19 à 13:04 par Firebrand
Pas de retard ce mois-ci pour la nouvelle version de MAME. Voici ce qu'elle nous propose:
With the end of September almost here, it's time to see what goodies MAME 0.214 delivers. This month, we've got support for five more Nintendo Game & Watch titles (Fire, Flagman, Helmet, Judge and Vermin), four Chinese computers from the 1980s, and three Motorola CPU evaluation kits. Cassette support has been added or fixed for a number of systems, the Dragon Speech Synthesis module has been emulated, and the Dragon Sound Extension module has been fixed. Acorn Archimedes video, sound and joystick support has been greatly improved.
On the arcade side, remaining issues in Capcom CPS-3 video emulation have been resolved and CD images have been upgraded to CHD version 5, Sega versus cabinet billboard support has been added to relevant games, and long-standing issues with music tempo in Data East games have been worked around.

MAMETesters Bugs Fixed
- 00130: [Sound] (darkseal.cpp) darkseal: When using your weapon, the music speed increases. (AJR)
- 00389: [Sound] (cbuster.cpp) cbuster: The music tempo increases up when the flamethrower is used. (AJR)
- 02108: [Sound] (vaportra.cpp) vaportra, vaportrau, kuhga: Music tempo changes when firing. (AJR)
- 03635: [Gameplay] (igspoker.cpp) cpoker, cpokert: Games freezing during play. (Roberto Fresca)
- 05802: [DIP/Input] (pk8020.cpp) korvet, neiva, kontur: Keyboard does not work! (Robbbert)
- 06205: [Graphics] (snes.cpp) snes [pilotwinu,pilotwinj]: Upper part of the screen image repeated. (AmatCoder)
- 06486: [Side-by-side] (a2600.cpp) a2600: Initial stack pointer value for the M6507 (6502) is incorrect. (MoochMcGee)
- 06901: [Crash/Freeze] (snes.cpp) snes [jdredd and clones]: Judge Dredd (all regions) stops working after title screen. (AmatCoder)
- 07405: [Sound] (dragon.cpp) dragon32, dragon64, dragon64h, dragon200, dragon200e: Dragon Sound Extention module is silent. (AJR)
- 07408: [Plugins] "autofire" plugin is not working properly. (Nathan Woods)
- 07412: [Crash/Freeze] (vgmplay.cpp) vgmplay [chaotixju_md]: Crash when attempting to play Sega 32X audio pack. (cam900)
- 07413: [Crash/Freeze] (exidy440.cpp) yukon, yukon1: The games crash or get stuck during the initial checks. (AJR)
- 07416: [Graphics] (legionna.cpp) denjinmk: Broken backgrounds in two game endings. (Angelo Salese)
- 07419: [Crash/Freeze] (snes.cpp) snes [firemenu, firemenj]: Screen remains black and game doesn't start. (AmatCoder)
- 07425: [Misc.] (mac.cpp) macplus: Option/Command key positions swapped (U.S. PC keyboard). (R. Belmont)
- 07426: [Misc.] (mac.cpp) maciici: Non-matching Option key positions (U.S. PC keyboard). (R. Belmont)
- 07427: [Crash/Freeze] (arkanoid.cpp) arkgcbl, arkgcbla, arkangc2, arkbloc2, arkbloc3, block2, paddle2: Crash on start. (Robbbert)
- 07430: [Graphics] (nes.cpp) ultstunt and clones: Introduction screens and playfield are corrupted. (AJR)

New working machines
- China Jiangmen Computer Equipment Factory H-01 JCE [zzemu]
- China State-owned 830 Factory NF500A [zzemu]
- Draw Poker (Joker Poker V.01) [Roberto Fresca TeamEurope]
- Game & Watch: Fire (silver) [algestam, Mr. Do, Sean Riddle]
- Game & Watch: Flagman [algestam, Mr. Do, Sean Riddle]
- Game & Watch: Helmet (Rev. 2) [algestam, hap, Mr. Do, Sean Riddle]
- Game & Watch: Judge (green) [algestam, Mr. Do, Sean Riddle]
- Game & Watch: Vermin [algestam, hap, Mr. Do, Sean Riddle]
- Motorola MEK6802D3 [68bit]
- Motorola MEK6802D4 [68bit]
- Motorola MEK6802D5 [68bit]
- Nanjing Computer Factory Zi Jin I [zzemu]
- Novag Super Sensor IV [hap, Berger, Achim]
- SciSys / Philidor Software Chess Champion: Mark V [hap, Berger]
- SciSys Kasparov Turbostar 432 [hap, anonymous]
- Urachacha Mudaeri (Korea) [brizzo, Angelo Salese, The Dumping Union]

New working clones
- Birdie Try (Japan revision 2, revision 1 MCU) [TeamEurope, Guru]
- China HKC HKC 8800A [zzemu]
- Fidelity Electronics Excel 68000 Mach II (rev. C+, set 2) [Berger]
- Game & Watch: Balloon Fight (crystal screen) [algestam, hap, Mr Jiggles the Christmas Man]
- Gouketsuji Ichizoku (Japan, prototype) [twistedsymphony]
- Hegener + Glaser Mephisto ESB II [Berger, Achim]
- Hegener + Glaser Mephisto III (ver. B) [Berger, Achim]
- Kuri Kinton (US, World Games license) [coolmod, The Dumping Union]
- Novag Constellation 3.6MHz (set 1) [hap, Berger, Achim]
- Novag Constellation 3.6MHz (set 2) [Berger]
- Novag Constellation Quattro [hap, anonymous]
- Novag Savant II [Berger, Achim]
- Pac Man (U.G. bootleg of Puck Man) [f205v]
- Psyvariar -Medium Unit- (V2.02O 2000/02/22 13:00) [rtw]
- Raiden Fighters (Greece) [Sergio Galiano, Recreativos Piscis]
- SciSys / Philidor Software Chess Champion: Mark VI/Philidor [hap, Berger, anonymous]
- Venture (version 5 set 2, bootleg) [f205v]

Machines promoted to working
- Unior [Robbbert]

Clones promoted to working
- Champion Poker (v101) [Roberto Fresca]
- Champion Poker (v201F) [Roberto Fresca]
- Lady Liner (encrypted, set 1) [TeamEurope, Roberto Fresca, Ivan Vangelista]
- Lady Liner (encrypted, set 2) [TeamEurope, Roberto Fresca, Ivan Vangelista]
- Lady Liner (encrypted, set 3) [TeamEurope, Roberto Fresca, Ivan Vangelista]
- Lady Liner (encrypted, set 4) [TeamEurope, Roberto Fresca, Ivan Vangelista]
- Lovely Cards (encrypted) [TeamEurope, Roberto Fresca, Ivan Vangelista]
- New Lucky 8 Lines (set 10, W-4, encrypted NEC D315-5136) [Grull Osgo]

New machines marked as NOT_WORKING
- Alpha Micro AM-1000 [Bitsavers]
- Cablenet 2039 Controller [Al Kossow, Bitsavers]
- Maldaliza [brizzo, Angelo Salese, The Dumping Union]
- VTech Genius Leader Select [TeamEurope, The Dumping Union]
- Wully Bully [brizzo, Angelo Salese, The Dumping Union]

New clones marked as NOT_WORKING
- 286 motherboards with 5-chip SUNTAC chipset [rfka01]
- 286 motherboards with 5-chip VLSI chipset [rfka01]
- 286 motherboards with Headland G2 chipset [rfka01]
- 386 Motherboard using the Forex FRX46C402 + FRX46C411 + SiS 85C206 chipset [rfka01]
- 386 motherboard using the Symphony chipset [rfka01]
- 386 motherboards using a OPTi 82C495XLC chipset [rfka01]
- 386 motherboards using the ALi M1429 A1 and M1431 A2 chipset [rfka01]
- 386 motherboards with a FOREX FRX46C402/FRX36C300/SIS85C206 chipset [rfka01]
- 386 SC Rev A2 [rfka01]
- 386-4N-D04A (UMC chipset) [rfka01]
- Asus ISA-386C [rfka01]
- Asus ISA-386U30 REV.2.2 [rfka01]
- AUVA COMPUTER, INC. BAM/12-S2 [rfka01]
- AUVA VIP-M21502A BAM16-A0 [rfka01]
- BI-025C HT-12 286 (HT12/A chipset) [rfka01]
- Biostar MB-1212C [rfka01]
- CDTEK 286 motherboard with Headland G2 chipset [rfka01]
- CMP enterprise CO.LTD. 286 motherboard [rfka01]
- DFI 386-20.REV0 [rfka01]
- DTK PEM 2539 [rfka01]
- Eagle PC-2 [rfka01]
- Everex Systems EV-1815 [rfka01]
- GOLDSTAR P/N 611-606A Rev 1.0A [rfka01]
- HLB-286 MBA-009 [rfka01]
- KMA-202F-12R (Winbond chipset) [rfka01]
- Leading Edge Model M [rfka01]
- Leanord SA Elan High Tech 286 [rfka01]
- Magitronic Technology Magitronic B236 [rfka01]
- Micromint MPX-16 [rfka01]
- Morse KP-286 [rfka01]
- Octek 286 mainboard with Headland G2 chipset [rfka01]
- Octek Jaguar V v1.4 [rfka01]
- Olivetti M203 motherboard [rfka01]
- PC-Chips M205 [rfka01]
- PC-Chips M321 [rfka01]
- PC-Chips M326 [rfka01]
- PC-Chips M919 [rfka01]
- Pipi & Bibis / Whoopee!! (bootleg, set 2) [anonymous]
- Shuttle Computer International HOT-304 [rfka01]
- SM 386-40F (Forex chipset) [rfka01]
- Snobol Mini 286 [rfka01]
- Soyo SY-019H and SY-019I [rfka01]
- SY-012 16/25 386MB VER: 5.2 [rfka01]
- TAM/33/40-MA0 (CM318R00,M31-R00) [rfka01]
- Uniron U3911-V3 [rfka01]
- Vendex HeadStart Plus [rfka01]
- Wyse WYSEpc 286 [rfka01]

New working software list additions
- amiga_apps: Amiga Appetizer (Sv), Desktop Budget (Sv), SuperDuper 2.02 [FakeShemp]
- apple2_flop_clcracked:
*Charlie Brown's 1, 2, 3's (1990 Queue re-release) (cleanly cracked), Chivalry (Revision 2) (cleanly cracked), Computer Preparation for the SAT (Version 1.1A) (cleanly cracked), Creature Chorus (Version 4.0) (cleanly cracked), Julius Erving and Larry Bird Go One on One (cleanly cracked), MicroExam Test Bank for Computer Mathematics: Structured BASIC with Math Applications (Version 1.01) (cleanly cracked), Millionaire (Version 2.1) (cleanly cracked), Professor Davensteev's Galaxy Search: Blue Level (cleanly cracked), Professor Davensteev's Galaxy Search: Red Level (cleanly cracked), Quiz Castle (cleanly cracked), The Sales Edge (cleanly cracked), Universe II (Version 1.0) (cleanly cracked) [4am, Firehawke]
*Buck Rogers - Planet of Zoom (cleanly cracked) [LoGo, Firehawke]
*Star Fleet 1: The War Begins (cleanly cracked) [Peter Ferrie, Firehawke]
- apple2_flop_misc: Olin in Emerald [www.mocagh.org, Dan Chisarick, Firehawke]
- apple2_flop_orig:
*Crossbow, Dogfight, Dragon's Keep, The Fidelity Chessmaster 2100, Hyper Head On, Infiltrator, Infiltrator Part II: The Next Day, International Hockey, Oo-Topos, PHM Pegasus, Racter, Roach Hotel, The Rocky Horror Show, The Sands of Mars, Snoggle, Succession, Super Mario Bros. Print World, Tawala's Last Redoubt, Tuesday Morning Quarterback [4am, Firehawke]
*Olin in Emerald [4am, www.mocagh.org, Dan Chisarick, Firehawke]
*Star Fleet 1: The War Begins [Brian Wiser, Firehawke]
- gba: Broken Circle (Euro) [No-Intro, FakeShemp]
- ggm: Sandy Edition - Master Chess, Steinitz Edition-4 - Master Chess [anonymous]
- gtfore: Golden Tee Fore! 2002 (V2.00.00), Golden Tee Fore! 2003 (V3.00.04), Golden Tee Fore! 2004 (V4.00.XX), Golden Tee Fore! 2005 (V5.00.XX), Golden Tee Fore! Complete (V6.00.XX) [FakeShemp]
- ibm5150: 2400 A.D. (set 2), Colossus Bridge 4, The Faery Tale Adventure: Book I, Star Pack, UMS II: Nations at War - Planet Editor [FakeShemp]
- ibm5170: Bundesliga Manager Professional, QuickLink II Fax, Veil of Darkness, Vinguiden 1.0 (Sweden) [FakeShemp]
- mac_flop: Balance of the Planet, Lode Runner [FakeShemp]
- saitek_kso: Kasparov Selected Openings [Berger, anonymous]
- sorcerer_cass: Defense [exidyboy]
- spectrum_cass: The Quill Adventure System (C series) (set 1, C05) [David Haywood]
- vgmplay: Air Rescue (Sega System 32), Alien3 - The Gun (Sega System 32), Barunba (MSX2), Barunba (PC Engine), Blaster Master - Enemy Below (Nintendo Game Boy Color), Bosconian (MSX), Cueb Runner (Sharp X68000), Dragon Buster (Sharp X68000), Fist of the North Star (NES), Fist of the North Star - 10 Big Brawls for the King of Universe (Nintendo Game Boy), Fray (MSX2), Hokuto no Ken (Family Computer), Illusion City (MSX turbo R), Image Fight (Sharp X68000), John Madden Football II (PC), King & Balloon (MSX), Kyuukyoku Tiger (Sharp X68000), Mappy (NEC PC-8801), Pac-Land (Sharp X68000), Pac-Man (MSX), R-Type (Sharp X68000), The Return of Ishtar (Fujitsu FM77AV), The Return of Ishtar (NEC PC-8801), The Return of Ishtar (NEC PC-9801), SHM (MSX2), Tank Battalion (MSX), Terra Cresta (Sharp X68000), Thunder Dragon (Arcade), Total Carnage (IBM PC AT), Toy Story Racer (Nintendo Game Boy Color), Turok - Battle of the Bionosaurs (Nintendo Game Boy), Turok - Rage Wars (Nintendo Game Boy Color), Turok 2 - Seeds of Evil (Nintendo Game Boy Color), Turok 3 - Shadow of Oblivion (Nintendo Game Boy Color), XVM (MSX) [Tafoid]
- vsmile_cart:
*Abenteuer im ABC Park (Germany, Rev. 3), The Batman - Rettung von Gotham City (Germany) [TeamEurope]
*The Batman - Rescate en Gotham City (Spain), Bob der Baumeister - Bobs spannender Arbeitstag (Germany, Rev. 104), Bob y sus Amigos - Un Dia De Trabajo (Spain), Campeonato de Futbol V.Smile (Spain), Disney/Pixar Cars - Acelera el Motor en Radiador Springs (Spain), Disney/Pixar A Procura de Nemo - Nemo A Descoberta do Oceano (Portugal), DreamWorks Shrek - El Cuento de la Dragona (Spain), Lil' Bratz Estrellas De La Moda - Amigos, Moda y Diversion (Spain), Noddy - Detective Por um Dia (Portugal), Scooby-Doo - Misterio En El Parque (Spain, translucent blue cartridge), Superman - El Hombre de Acero (Spain), Walt Disney La Cenicienta - Los suenos magicos de Cenicienta (Spain) [TeamEurope, ClawGrip]

Software list items promoted to working
- dragon_cart: Speech Synthesis Module [Nigel Barnes]

New NOT_WORKING software list additions
- gj4000: Wissen fuer Kinder [TeamEurope]
- gl6000sl: Update - Rechtschreibreform [TeamEurope]
- glcx: Update Programm-Zusatzkassette (Ger) [TeamEurope]
- gls: Spielend Richtig Schreiben [TeamEurope]
- ibm5170: Strike Commander, Strike Commander: Speech Pack, Strike Commander: Tactical Operations [FakeShemp]
- mac_flop: The Supercars - Test Drive II Car Disk [FakeShemp]
- mac_hdflop: Lost in Time - Parts 1 & 2 [FakeShemp]
- st_flop: Ferrari Formula One (Euro) [FakeShemp]
- vsmile_cart:
*Cranium - Freizeit Park - Ein Jahrmarkt voller Spiel- und Lernspass (Germany), Dolphis Wasser-abenteuer (Germany) [TeamEurope]
*Cranium - Parque de Atracciones de Cranium (Spain), Dakota y su mascota (Spain), Disney/Pixar Toy Story 2 (Smartbook) (USA), Disney's Little Einsteins (Spain), Kung Fu Panda - Aventura en el Valle de la Paz (Spain), Nick Jr. Dora the Explorer - Dora's Got a Puppy (Smartbook) (USA), Spider-Man y Amigos - Misiones Secretas (Spain, Rev. 222), V.Smile Estudio De Arte (Spain), V.Smile PC (Spain), Walt Disney La Cenicienta - Los suenos magicos de Cenicienta (Spain, Rev. 122) [TeamEurope, ClawGrip]
- vsmilem_cart: Disney La Casa de Mickey Mouse (Spain), Disney Winnie the Pooh - En busca de la miel (Spain), Disney/Pixar Cars - Acelera el Motor en Radiador Springs (Spain), Disney/Pixar Toy Story 3 (Spain), Disney/Pixar UP (Spain), Disney/Pixar Wall-E (Spain), DreamWorks Monstruos contra Alienigenas (Spain), Scooby-Doo!! - Misterio en el parque (Spain) [TeamEurope, avlixa, ClawGrip]

Source Changes
- bus/ss50: Corrected SS- 30 MPS2 "high" Baud rates. [68bit]
- bus/ss50: Don't log reads from empty SS-50 slots when side effects are disabled. [68bit]
- flex_dsk.cpp: Fixed logging of the disk name extension. [68bit]
- swtpc09.cpp: Added hard disk support to the DMAF3 controller. [68bit]
*Includes new WD1000 hard disk controller support, and improved DMAF2/DMAF3 MC6844 DMA emulation.
- mc6845.cpp: Improved cursor emulation, including differences between the MC6845 and HD6845S. [68bit]
- asmjs: Removed option to ignore missing libraries, and removed util and SDL2_ttf from link libraries. [68bit]
- unidasm: Added -xchbytes option to swap input bytes. [AJR]
- Added dump and emulation for Alpha Micro AM-310 Communications Controller. [AJR, Bitsavers]
- m37710: Internalized timing for analog-to-digital converter. [AJR]
- Distinguish DIP switches that belong to different devices but have the same name in UI menus. [AJR]
*Most likely to occur when multiple instances of the same device type are configured on bus slots.
- h8: Improved disassembly. [AJR]
*Corrected sign extension for 16-bit absolute addresses.
*Add h' prefix to hexadecimal numbers.
*Restrict address length depending on model.
*Align arguments.
- airbustr.cpp, djboy.cpp, hvyunit.cpp, sidearms.cpp: Corrected sound IRQ sources. [AJR]
- c140.cpp: Added timing output to trigger periodic FIRQ. [AJR]
- h6820: Added a hack to work around incorrect music speed in cbuster.cpp, darkseal.cpp and vaportra.cpp (MT00130, MT00389, MT02108). [AJR]
- prestige.cpp: Corrected metadata (glmmc is now gmmc), and marked gmmc system ROM as a bad dump. [AJR]
- h6280: Reduced logical address space width, and made debugger use official names for banking registers. [AJR]
- exidy440.cpp: Fixed crash/assertion failure caused by palette having too few entries. [AJR]
- Added preliminary ELAN Microelectronics RISC II CPU emulation. [AJR]
- dp8350.cpp: Improved timing, and fixed save states. [AJR]
- nes.hsi: Fixed mirroring for Ultimate Stuntman. [AJR]
- Fixed debugger dump command for address-shifted spaces. [AJR]
- snes.cpp: Don't reset HDMA on writes to HDMAEN if the register value isn't changed (fixes MT06205). [AmatCoder]
- g65816, spc700: Improved cycle counting (fixes MT06901 and MT07419). [AmatCoder]
- crospuzl.cpp: Improved Flash loading. [Angelo Salese]
- VRender0 updates: [Angelo Salese]
*Improved menghong hardware emulation, allowing crzyddz2 to boot and improving menghong colors.
*Moved video and audio components into the system-on-a-chip device, and added preliminary UART emulation.
*Allowed external video clock to be set by the host driver.
- segaic24.cpp: Implemented reverse Y clipping logic (fixes sprite priorities in Crack Down). [Angelo Salese]
- archimds.cpp updates: [Angelo Salese]
*Fixed cursor enable and sizing (used by caverns to display score and main player sprite).
*Added preliminary RTFM and serial joystick support.
*Re-implemented Acorn VIDC10 emulation, adding stereo sound support and improving raster effects.
- segac2.cpp: Added links to reference videos. [cam900]
- gba.xml: Corrected ROM size for brokenc. [cam900]
- k051649.cpp: Added more address map mirrors, added save state support, and cleaned up code. [cam900]
- ym2151.cpp: Clear both output buffers when reset is asserted. [cam900]
- psikyosh.cpp: Refactored common pixel operations into helper functions, improved use of const, and cleaned up code. [cam900]
- ay8910.cpp: Implemented AY8930 extensions, made pin 26 an input, added notes, and cleaned up code. [cam900]
- deco_mlc.cpp: Improved blending behavior and cleaned up code. [cam900]
- mega32x.cpp: Removed assumptions about host system's sound outputs (fixes MT07412). [cam900]
- 315_5313.cpp: Fixed 3- bit color mode masking, implemented device_gfx_interface, and separated shadow/highlight palettes. [cam900]
- calcune.cpp: Converted drawing routine to use VDP palette, added save state support, and reduced redundant code. [cam900]
- video/generic.cpp: Added 16*16 layouts composed of 2*2 arrangement of 8*8 tiles, and made a number of drivers use generic layouts. [cam900]
- imagetek_i4100.cpp: Added notes and cleaned up code. [cam900]
- hyprduel.cpp: Set MACHINE_NO_COCKTAIL flag on hyprduel and hyprduel2. [cam900]
- nmk16.cpp: Verified some clock sources and CPU types. [cam900]
- legionna.cpp: Always invalidate tilemaps on bank change for Denjin Makai and Heated Barrel. [cam900]
- plugins/cheat: Added time functions to the cheat sandbox. [Carl]
- netlist: Force C locale when formatting numbers (fixes exception when global locale is set). [Couriersud]
- spectrum: Added preliminary Beta Disk emulation (not working). [David Haywood]
- karnov.cpp: Hooked up 8031 microcontroller for chelnovjbl. [Dirk Best]
- model3.cpp: Hook up 315-5649 I/O controller. [Dirk Best]
- HP9845: Reimplemented TACO based on recently-published internal documentation. [F.Ulivi]
*Also separated DC100 tape cartridge device, and added support for 16-bit data format used by HP9845 and HP885.
- hphybrid: Fixed bug that caused hp9825t to hang when calculating logarithms. [F.Ulivi]
- Don't throttle emulation while paused if video update- in- pause is enabled. [feos]
- icebox.cpp: Hooked up floppy controller interrupt request, allowing disk routines to work properly. [Frank Palazzolo]
- apple2: Corrected Joyport multiplexing. [Golden Child]
- apple2: Fixed key code for Ctrl-Shift-P and modifier codes for M and N on II and II Plus. [Golden Child]
- segacrp2_device.cpp: Added NEC D315- 5136 device (used by lucky8k). [Grull Osgo]
- sh: Log SH2 FMR clock multiplier writes. [MetalliC]
- cps3.cpp updates - imperfect graphics flag has been removed: [MetalliC]
*Hooked up coin lockouts and coin counters, and connected buttons 5 and 6 to jojo, jojoba and clones.
*Made SS RAM and registers eight bits wide and fixed EEPROM size.
*Added fixed delay to palette/character DMA interrupts, and removed periodic interrupt hack.
*Fixed missing star sprite in introduction and game title background color for jojo.
*Render tilemaps as sets of rows from sprite list (fixes sfiii Alex stage background).
*Implemented sprite list caching (fixes warzard two-player versus screen and jojo introduction text).
*Replaced disk images version 5 CHD files build from trurip database.
*Re-implemented color fading, and zeroed low three bits of color channels.
*Improved save state support, Improved function/variable naming, cleaned up code, and improved documentation.
- cps3.cpp: Implemented tilemap flipping, added a delay to sprite list DMA acknowledgement, and buffered global scroll registers. [MetalliC, David Haywood]
- geneve: Added PC keyboard connector, allowing the use of emulated PC XT keyboards. [Michael Zapf]
- m6502: Improved reset sequence emulation (fixes MT06486). [MoochMcGee, hap, smf]
- Exposed running_machine::exit_pending() and running_machine::hard_reset_pending() to Lua scripts. [Nathan Woods]
- Changed osd_get_clipboard_text() to return std::string. [Nathan Woods]
- dragon32: Added JCB Speech Synthesis cartridge emulation. [Nigel Barnes]
- acorn_vidc.cpp: Generate mu- law table at device start time. [O. Galibert, Angelo Salese]
- tms34020: Fixed BLMOVE alignment handling (fixes endless loop in Atronic games). [Priit Laes]
- apple2: Added initial support for ComputerEyes/2 image capture slot card. [R. Belmont, Golden Child]
- f2mc16 updates: [R. Belmont]
*Implemented more opcodes.
*Made interrupt handling more robust.
*Implemented mb9061x timers 0 and 1, including external event counter mode.
*Fixed BBC branch offset.
*Added more opcodes to the disassembler and normalized bit syntax.
*Added save state support and cleaned up code.
- Added a preliminary native Cocoa OSD layer for macOS (not working yet). [R. Belmont]
- mac.cpp, mac128.cpp: Made default mapping for Command key right alt for all machines. [R. Belmont]
- Emulated Sega Billboard and hooked it up to ST- V, Model 2 and Model 3 games. [Rob Krum, Dirk Best]
- i8251: Implemented synchronous modes. [Robbbert]
- unior.cpp, pp01.cpp: Fixed cassette interfaces. [Robbbert]
- pmd85.cpp: Added cassette to alfa and mato, fixed cassette on other sets, and added notes. [Robbbert]
- poly88.cpp: Fixed cassette polyphase mode. [Robbbert]
- argo.cpp: added DMA, CRTC, PIT and cassette by guesswork. [Robbbert]
- plan80.cpp: Added speaker sound. [Robbbert]
- pk8020.cpp: Fixed keyboard and updated notes (MT05802). [Robbbert]
- mycom.cpp: Fixed scrolling. [Robbbert]
- goldnpkr.cpp: Replaced incorrectly dumped jokercar extended graphics ROMs with data from another set to make the game playable. [Roberto Fresca]
- goldstar.cpp: Simplified cherrys graphics decryption code. [Roberto Fresca]
- igspoker.cpp updates: [Roberto Fresca]
*Patched out protection in cpokert, cpokerx, cpoker101, cpoker201f and cpoker210ks (MT03635).
*Fixed inputs for cpoker, cpokert and cpoker201f.
- SGI Newport graphics: Fixed inverted- Y pixel read- back (fixes crash in Alias PowerAnimator 7.5). [Ryan Holtz]
- r4000: Report the correct sub- revision for the R4600, and allow specific R4x00 types to specify the FPU ID as well. [Ryan Holtz]
- indigo.cpp: Switched indigo4k to use the new R4000 CPU core. [Ryan Holtz]
- SGI HAL2 audio: Corrected chip revision ID to match real hardware. [Ryan Holtz]
- sgi_mc: Flag EISA bus as present on both Indigo2 and Indy, as VINO uses EISA signals for GIO64 arbitration. [Ryan Holtz]
- vino: Implemented the majority of its functionality, and hooked it up to picture_image_device. [Ryan Holtz]
- hh_sm510.cpp: Improved re- created melody ROMs for gnw_bfight and gnw_mbaway. [algestam]
- debugger: Added mips and m68k support to gdbstub, and added support for running MAME debugger commands from the client. [Ramiro Polla]
- Changed Travis CI build to use GCC 9, and added MinGW GCC build to AppVeyor. [Belegdol]
- marineb.cpp: Documented difficulty settings for hoccer, and added DIP switch locations for most sets. [Brian Troha]
- policetr.cpp: Re-dumped U163 sound ROM for policetr10, and added speed- up hacks for sshooter, sshooter11 and policetr10. [Brian Troha]
- karnov.cpp: Re-dumped color BPROMS for chelnovj, confirming they match chelnov/chelnovu. [Brian Troha]
- ibm5170.xml updates: [FakeShemp]
*Changed gilispa, mitsmous6, nd010pci, nusound, sndwav32 and wordfndr to IMD images.
*Changed scroll3d, sndwav32, cpavfw, microcp3, wordfndr and thndrhwk to MFM images.
*Re-dumped internet and nicklaus.
- ibm5150.xml update:
*Replaced tgipack and ranger1 with MFM images.
- amiga_hardware.xml: Dumped a590_seagate disk. [FakeShemp]
- blackt96.cpp: Measured PIC microcontroller clock frequency. [Guru]
- wyvernf0.cpp: Measured clock frequencies. [Guru]
- symbolics.cpp: Changed unpopulated ROM regions to read as 0xFF to match hardware tests. [Josh Dersch]
- neptunp2.cpp: Added EEPROM dump to rockroll. [jordigahan, ClawGrip]
- commando.cpp: Corrected CPU frequency and updated notes. [Jose Tejada]
- gng.cpp: Corrected notes. [Jose Tejada]
- midvunit.cpp: Added re-created A19993 PAL program. [JROK, Hydreigon]
- naomi.cpp: Re-dumped initdv2ja and ggxxsla GD- ROMs. [MajorPBX]
- sprint4.cpp: Fixed gear shift controls for fourth player. [Mark Spaeth]
- bfm_sc4.cpp, exidyttl.cpp, globalfr.cpp, jpmmps.cpp, monacogp.cpp, mpu5.hxx, simple_st0016.cpp: Edited titles for consistency. [MASH]
- genpc.cpp updates: [rfka01]
*Increased pc BIOS region size to 64KiB to support late XT clones.
*pc: "Added Super Computer BIOS 1.2", "B- 190- B", "KT 10 M/B" and "Ruud Baltissen's Diagnostics" BIOS options.
- at.cpp updates: [rfka01]
*Expanded chipset details and notes.
*at: Added "286 TACT", "CDTEK 286" and "Landmark/Supersoft diagnostic ROMs" BIOS options.
*at386: Added "386 board with Ali chipset", "386 UMC 3DIUD", "386GRN- like board rev.03", "MB1325PM" and "Tandon/Micronics with 385" BIOS options.
*atvga: Added "286 TACT" and "CDTEK 286" BIOS options.
*neat: added "286-NEAT", "VIP BAM/16- 11" and "CP-805" BIOS options.
*vlsi5: Added "MBVLSI-168" BIOS option.
- ibmpc.cpp: Added "Landmark/Supersoft Diagnostics" BIOS options for ibm5150 and ibm5160. [rfka01]
- hawk.cpp: Added "DEMOS 2.21 V1.01" BIOS option. [TheEPROM9]
- cps1.cpp: Dumped U104 PAL for Street Fighter II' CE Mstreet-6 bootlegs sf2cems6a and sf2cems6b. [TwistedTom]
- chinagat.cpp: Added PCB layouts and TRJ- 100 pinout information, and updated notes. [yukaritamura]
- supbtime.cpp: Fixed DE-0343 board main CPU and audio CPU clock frequencies. [yukaritamura]

My Nes v7.5.7202 (32-bit)
Mercredi 25/09/19 à 13:24 par Firebrand
Une nouvelle version de cet émulateur NES a été publiée. Les améliorations sont les suivantes:
- Added: new audio mixer instead of the default lookup table.
- Fixed: audio sound filters (wrong high-pass equation and alpha calculation).

Mercredi 25/09/19 à 13:21 par Firebrand
Cet excellent émulateur Super Nintendo a été mis à jour. Voici la liste des nouveautés (ainsi que celle de la version précédente qui était passée sous le radar... oups...):
v110:
- improved ExLoROM support (fixes Fire Emblem: Thracia 776 fan translation)
- several improvements to the libretro target, including macOS and Android platform support
- fixed an issue where the Alt key wasn't activating the menu on the Windows port
- removed 2160p HD mode 7 setting, due to Direct3D 9.0 texture size limits of 2048x2048
- reverted fresh configuration files to using the safer hardware drivers
- disabled the ASIO driver due to lack of support
- fixed a crashing issue when idling with the snow effect enabled
- added IOKit joypad support for macOS [Sintendo]
- added fast PPU render cycle position override for Firepower 2000's title screen
- ported higan's accurate PPU renderer back to bsnes to add sprite caching for Wolfenstein 3D

v109:
- greatly improved macOS support, fixing all obvious bugs and adding fullscreen support
- added libretro target [Themaister, rtretiakov]
- much smarter automatic HD mode 7 perspective correction support [DerKoun]
- added CPU and SA-1 overclocking support
- added fast forward speed limiting
- added a new "hotfixes" option to fix critical (deadlocking) bugs that also occur on real hardware (eg for Dirt Racer)
- added options to emulate bugs in ZSNES and older Snes9X releases to increase compatibility:
*"No VRAM blocking" for older fan translations
*"Echo shadow RAM" for older Super Mario World ROM hacks
*"CPU fast math" for older homebrew
*"Entropy: none" technically counts as well, for demoscene software made for SNES copiers
- added dialog for IPS patching to choose whether they were made for headered or unheadered ROMs
- lowered volume during fast forwarding and rewinding to reduce audio distortion
- added option to mute sound during fast forwarding and rewinding
- added an option to deinterlace all SNES games by rendering at 480p (almost no speed hit; highly recommended)
- added multi-monitor support to Windows, Linux, and BSD
- improved pause and frame advance support
- improved mosaic emulation for the fast PPU
- added entropy (randomness) settings; default to no randomness for movie recording (guarantees consistent playback)
- improved MLT_REQ Super Game Boy emulation; fixes Killer Instinct to default to player 1 instead of player 2 [endrift]
- added option to disable video dimming during pausing (useful for screenshots with window decorations)
- redesigned the settings and tools windows to use lists instead of tabs
- redesigned the input and hotkey settings windows to be easier to use and with clearer naming + icons
- added option to make hotkeys combinatorial (eg Ctrl+F) instead of separate (eg F11 or Gamepad L-shoulder)
- restructured the settings menu to be more intuitive
- fixed path selection dialog from sometimes appearing offscreen
- added wildcard search support to the file loading window
- fixed the --fullscreen command-line option
- redesigned the thread scheduler to allow enhanced compatibility with SA-1 and SuperFX overclocking
- fixed the pseudo-hires blur emulation support with the accuracy PPU
- removed template integer classes from the fast PPU to make the code more portable
- removed icarus from bsnes and merged the heuristics directly into bsnes itself
- ~5% speedup by optimizing CPU memory accesses and the PPU counters
- fixed an out-of-bounds memory access in the DSP core [Sour]
- enhanced the snow effect with depth-of-field and alpha blending support
- double-clicking a cheat finder result will now add the new cheat code directly
- added "[HLE]" indicator to the title bar when coprocessor HLE is being used
- simplified game titles with multi-carts (eg omit "Super Game Boy +" in SGB mode)
- the emulator now pauses on Windows when navigating the menus
- added SNES support for decoding Game Genie and Pro Action Replay codes
- added Game Boy support for decoding Game Genie and Game Shark codes
- added many more tooltips to explain GUI functionality
- minor speedups to SuperFX and Cx4 emulation (via object locality)
- simplified the mode 7 rendering code for the accurate PPU
- suppress Alt+F4 while in fullscreen mode
- fixed every reported regression caused by the speed optimizations I've been adding recently
MAMu_'s MAME Icons v0.213 Extended Pack
Lundi 16/09/19 à 12:52 par Firebrand
Ce pack d'icônes pour MAME a été mis à jour vers MAME v0.213. Attention, le pack d'origine de MAMu_'s MAME Icons ainsi que l'Actualized Pack sont nécessaires pour avoir toutes les icônes! Vous les trouverez dans notre section MAME.
Lundi 16/09/19 à 12:49 par Firebrand
Des correctifs concernant essentiellement la version Linux ont été apportés à ce frontend prévu pour fonctionner avec NegaMAME. Les améliorations sont les suivantes:
- This is a pretty minor release to allow Negatron to run on the current version of ArchLinux and probably other Linux distros...
- Application: Fixed the issue where Negatron couldn't handle beta versions of Java / JavaFX as labelled on Linux distros (versions tagged with "-ea" for early access).
Lundi 16/09/19 à 12:43 par Firebrand
Une nouvelle mise à jour intermédiaire pour cet ensemble de noyaux d'émulateurs réunis sous une même interface a été publiée. Voici les changements apportés:
- COMMON: Enable customisation of runtime 'last played' display format.
- CHEEVOS: Add hashing support for PSX (bin/cue, chd, or real CD) (for real this time, got added in the CHANGELOG for v2 then reverted before it hit release)
- IOS: Update for iOS 13, fix the asset packaging issues
- LOCALIZATION: Update Portuguese Brazilian Translation
- MENU: Add 12-hour time/date versions of all formats
- SWITCH: Add 'AI Service' option to Switch (untested)
- SWITCH: Update to newest libnx
Lundi 16/09/19 à 12:32 par Firebrand
Cette nouvelle version de mGBA contient essentiellement des correctifs. Les améliorations sont les suivantes:
A new release of mGBA, version 0.7.3, is available. This version is a bugfix release, which contains many stability and accuracy fixes. Notably, sprites that are broken at the top of the screen are fixed. An extensive list of changes follows after the cut.

Emulation fixes:
- GB: Fix savedata initialization (fixes #1478, #1478)
- GB: Fix SGB controller incrementing (fixes #1104)
- GB Audio: Improve channel 4 supersampling
- GB Printer: Reset printer buffer index after printing
- GB Audio: Deschedule channel 3 when disabled (fixes #1463)
- GB Audio: Deschedule channel 1 when disabled by sweep (fixes #1467)
- GB Video: Increment BCPS/OCPS even in mode 3 (fixes #1462)
- GBA Memory: Fix STM to VRAM (fixes #1430)
- GBA Memory: Fix STM/LDM to invalid VRAM
- GBA Video: Fix wrapped sprite mosaic clamping (fixes #1432)
- GBA Audio: Fix channel 4 aliasing (fixes #1265)

Other fixes:
- Core: Fix crashes if core directories aren't set
- Core: Fix crash when exiting game with cheats loaded
- GBA: Set up GPIO mapping on null and ELF ROM regions (fixes #1481)
- GBA Cheats: Fix PARv3 Thumb hooks
- GBA Cheats: Fix value incrementing in CB slide codes (fixes #1501)
- Qt: Fix FPS target maxing out at 59.727 (fixes #1421)
- Qt: Cap audio buffer size to 8192 (fixes #1433)
- Qt: Fix race conditions initializing GDB stub
- Qt: Improve cheat view UX
- Libretro: Fix crash changing allowing opposing directions (hhromic)
- mGUI: Fix crash if last loaded ROM directory disappears (fixes #1466)
- Switch: Fix threading-related crash on second launch

Misc:
- Qt: Make mute menu option also toggle fast-forward mute (fixes #1424)
- Qt: Show error message if file failed to load
Dimanche 15/09/19 à 12:44 par Firebrand
Cet version de MAME pour Linux Ubuntu a été mise à jour vers MAME v0.213.
Dimanche 15/09/19 à 12:41 par Firebrand
Cet excellent émulateur GameBoy/GameBoy Color pour MacOS mais possédant un port Windows (ayant moins de fonctions que la version MacOS) a été mis à jour. Les améliorations sont les suivantes:
New/Improved Features
- The Quick Look previewer now produces color-corrected thumbnails
- The debugger now supports a wider range of symbol files

Accuracy Improvements/Fixes
- Fixed a bug where samples in the wave channel were treated as if they're 0, effectively muting the channel in some cases.
- Fixed a regression that caused some PPU test ROMs to fail
- More accurate emulation of memory access conflicts on the Super Game Boy
- When emulating a Super Game Boy, built-in palettes for select games are now emulated
- Accuracy improvements to Super Game Boy's multiplayer mode
- Super Game Boy and Game Boy Advance now have their own color correction filters

Bug Fixes
- Improvements to audio in the SDL port, affecting some machines
- Fixed a bug where the SDL port loaded the wrong boot ROM when emulating Super Game Boy 2
- Fixed broken audio on libretro when used with some RetroArch audio drivers
- Fixed a potential crash when closing a window in the Cocoa port
- Fixed libretro achievements
- Fixed major performence issues in the Cocoa port that affected some Macs, especially when emulating the original Super Game Boy

Misc Internal Changes
- The emulation core now supports emulating a Super Game Boy without high level emulation of the SNES or SFC. SameBoy is now used for Game Boy emulation by bsnes, allowing extremely accurate low-level emulation of Super Game Boy.
- Made it possible to compile the SDL port with older SDL versions
- Compression improvements to the CGB and AGB boot ROMs
Jeudi 12/09/19 à 12:15 par Firebrand
Ce gestionnaire de ROMs a été mis à jour. Pour les utilisateurs de Windows XP, la compatibilité avec ce système d'exploitation sera abandonnée à partir de la v4.1; téléchargez donc les versions compatibles avec votre système tant qu'elles sont disponibles! Les améliorations sont les suivantes:
Here is the first fix for 4.0. Not a lot of bugs, and most are fixed in this version :)
Requirement : .net framework 4, windows xp to windows 10
The 4.0 branch will be the last version compatible with windows XP (<3% of romcenter users are on xp).
4.1 branch will use a modern framework (4.6 or 4.7) which will allow powerfull language features. Also, I'm testing a 64 bit version, which hopefully will solve memory problems.

- Add support for samples with extension in datafile
- Add new arcade datafiles: itech32, namco s12, nmk16, seta 1, sony zn1/2
- Update arcade datafiles to 0.213
- Fix progress bar when filtering games
- Fix missing rom in provided arcade datafiles
- Fix error message during dat import when temp path is not found
- Fix greyed 'ok' button in backup path option
- Fix backup mode hint not updated in status bar
- Fix and improve 'delete' tool with unique rom
- Fix rom view empty after fixing (merging) a file
- Fix a crash when loading dat with nodump device rom
- Fix 'delete' operation of unique rom
- Fix 'cancel' button not working when moving/copying files
- Fix double extension samples files
- Fix file wrongly identified as sample in merge mode
- Fix items not found error
- Fix bug with unique names
- Fix wrong merged flag for clone bios
- Fix wrong rom cases
- Fix slow start when removing rom
- Fix stack overflow when leaving rc
- Fix status bar empty after loading db
- Fix possible null reference at startup
- Fix unzipped roms dump status sometimes wrong
- Fix rom view sometime empty after a fix
- Force sample extension to lowercase in 'database' case mode
- Smooth grids navigation with keyboard
- Update external components.
Messinfo.dat v0.213 (11.30)
Mardi 10/09/19 à 12:42 par Firebrand
Les données de MAME v0.213 ont été incluses dans ce fichier informatif dédié aux machines non arcade:
- 11.30 09/09/2019: Aligned files to 0.213 version.
Mardi 10/09/19 à 12:39 par Firebrand
Ce build de MAME prévu pour fonctionner avec le frontend Negatron a été mis à jour vers MAME v0.213.
Fichiers additionnels pour MAME v0.213
Lundi 09/09/19 à 12:39 par Firebrand
Une nouvelle série de fichiers additionnels a été mis à jour avec les données de MAME v0.213:
Languages.ini v0.213 (1.02):
- 2019/09/08 1.02: Added 0.213 sets.

Series.ini v0.213:
- Items RENAMED (4): (hbarrel) to (hbarrelu), (hbarrelw) to (hbarrel), (swa) to (swaj) and (victor5) to (victor5a).
- Series UPDATED (8): Commando, Crazy Kong, Player's Edge, Power Instinct, Shanghai, Star Wars Arcade, Street Fighter and Victor.
Lundi 09/09/19 à 12:29 par Firebrand
2 versions corrigeant principalement des bugs ont été publiées. Voici la liste des nouveautés:
v1.7.8 (v3):
RetroArch 1.7.8 was a very ambitious release, and as a result, it is taking some time to iron out some of the kinks. Instaed of leaving you waiting for a month again to fix some crucial bugs, we'd rather release these point fix releases first instead so that we leave you with a rock-solid 1.7.8 in the end while we then shift our focus and attention to 1.7.9.
In light of that, we are releasing version 3 right now, which will be especially beneficial for Mac users. The future-proof Metal Mac version should now work flawlessly on Macs with an AMD graphics card (they previously produced heavy graphics glitches inside the menu). It has just been released! Grab it here.

Changes
- GLCORE: Ensure correct scaling of menu texture (with RGUI)
- IPS: Soft-Patch any IPS size
- METAL: Fix overlay issue – setup correct viewport before rendering overlay
- METAL/STB: Fix font driver issue with AMD GPUs on MacOS.
- MENU/RGUI: Correctly rescale menu when resizing window if aspect ratio lock is enabled.
- OSX: Remove OSX suffix in window title
- PSP: Fix audio conversion code
- REMAPS: Fix analog remapping regression -analog remapping would break controls

v1.7.8 (v2):
- 3DS: Fix 3DS startup crash
- AI SERVICE: Fix 'Japanese' setting
- D3D12: Fix runtime error at startup
- CHEEVOS: Fix Achievements badges
- CHEEVOS: Add hashing support for PSX (bin/cue, chd, or real CD)
- GLCORE: Fix regression – shaders don't work
- IOS: Use launch storyboard to properly support all screen sizes
- LOCALIZATION: Update Japanese translation
- LOCALIZATION: Update Korean translation
- LOCALIZATION: Update Polish translation
- MENU/XMB: Smooth vertical ticker scrolling
- OSX: Fix potential OSX startup crash
- PATCH: Fix IPS patches
- PLAYLISTS: Fix playlist heap corruption bug. Would also cause potential crashes on OSX and 3DS at startup
- SHADERS: Fix shader loading and saving in content-less cores
- SHADERS: Implement video_shader_delay setting. Screen grabbing software like streaming software can interfere with the loading of shaders, resulting in graphical glitches or freezes. This PR adds a video_shader_delay setting (in ms) and (advanced) menu entries Video -> Auto-Shader Delay, allowing to work around the issue
Le sondage de septembre 2019
Dimanche 08/09/19 à 13:44 par Firebrand
Remisés jusqu'à l'an prochain parasols, maillots de bain et barbecues. Retour à la réalité et à la grisaille, les vacances sont finies!

Le moment est donc venu de mettre fin au sondage de l'été dont voici les résultats: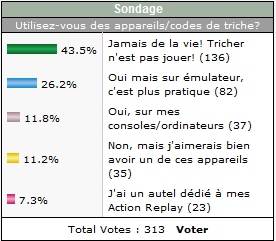 La majorité d'entre vous sont des purs qui ne trichent pas (ou des hypocrites? On ne le saura jamais!) et la plupart des roublards le font sur émulateur.


L'émulation, c'est comme tout: il y a une première fois. Un monde à découvrir, un jeu de sa jeunesse qu'on veut retrouver, le jeu auquel ont avait toujours voulu jouer sans jamais mettre la main dessus: on a tous eu une bonne raison de télécharger et de lancer pour la première fois un émulateur. Il y a évidemment trop de possibilités pour vous demander pour quelle machine précisément ou pour quel jeu vous avez ouvert la porte de cet univers. Nous allons donc réduire un peu les catégories: consoles de salon, consoles portables, micro-ordinateurs et arcade. Parmi ces choix lequel vous a donné le déclic? A vous de jouer!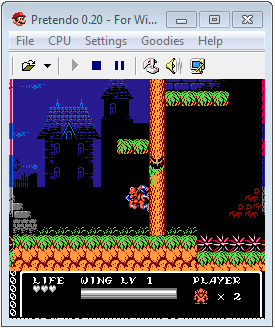 Le premier émulateur (mais certainement dans une version plus récente) jamais lancé par votre serviteur.



Vous pouvez venir défendre votre avis sur notre forum!
Unofficial Catlist/Catver v0.213
Dimanche 08/09/19 à 12:11 par Firebrand
Les jeux de MAME v0.213 ont été ajoutés à ces fichiers permettant de les trier par catégories.
NPlayers.ini et NPlayers32.ini v0.213
Dimanche 08/09/19 à 12:09 par Firebrand
Ces fichiers permettant de trier les jeux MAME par nombre de joueurs a été mis à jour avec les nouvelles machines de MAME v0.213.
Samedi 07/09/19 à 12:26 par Firebrand
AntoPISA met à jour son premier fichier additionnel pour MAME v0.213. Celui-ci vous permet de trier les jeux MAME selon la version dans laquelle ils ont été introduits.
Samedi 07/09/19 à 12:22 par Firebrand
Cet émulateur Apple // a été mis à jour. Les améliorations sont les suivantes:
- [Change #678] Hotkeys to change emulation speed:
*Ctrl-0 Toggles between custom speed and Full-Speed
*Ctrl-1 Sets 1 MHz
*Ctrl-3 Sets Full-Speed
- [Change #671] Register .woz extension with AppleWin. Updated AppleWin.chm & DELREG.INF.
- [Bug #685] Fixed support for French Touch's "CHIP" demo (Mockingboard / multi-TIMER interrupt support).
- [Bug #677] Loading a save-state wasn't restoring the pending IRQ.
- [Bug #672] For WOZ images: all even disk I/O read accesses will now read the data latch.
- [Bug #650] NTSC TV (Color and B&W): image was half an Apple II scanline vertically shifted down.
- [PR #674] Prevent uninitialized value bugs and improve string safety.
GameEx et GameEx Arcade Edition v15.69
Vendredi 06/09/19 à 11:25 par Firebrand
Encore une nouvelle version de GameEx sans qu'on sache ce qui a été changé. On commence à avoir l'habitude.
MedGui Reborn Stable v1.07
Vendredi 06/09/19 à 11:23 par Firebrand
Pour accompagner la nouvelle version de Mednafen, ce frontend spécifique a été mis à jour. Les améliorations sont les suivantes:
- For unknown reason the control pad gui fix was disappeared from last release
- Added messages to guide the user to the first configuration
- Added specific "player" video setting for Mednafen Chipmusic player
- Added external resource credit link on About form
- Recalculate the grid size to prevent the hide of horizontal and vertical scroll bars
- Added a progress bar at MedGuiR startup
- Added linklabel for developer, publisher and system on TheGamesDb section
- Fixed a detection of TOSEC dats file
- Double buffered Datagrid to improve populating speed
- Changed again the download way for MedGuiR update
- Changed again MedGuiR Server update
- added a small correction on ftpuri control
- Added a correction on the creation of folder module
- Modified FTPDownloadFile function
- Added a information popup when downloaded file will be extracted
- Removed a lot of redundant code for extract archive, now managed by a function
- Various bugfixes
- Disabled Specific external dll Version request on project
- Added others link on rom searcher section
- Added all parameters from Mednafen 1.23.0-UNSTABLE