FS-UAE v2.7.14 dev (32-bit)
Dimanche 15/05/16 à 13:27 par Firebrand
Cet émulateur Amiga a été mis à jour. Voici la liste des nouveautés:
Changes in FS-UAE 2.7.14dev:
- Fixed reserved word problem ("filter") in crt.shader.
- Fixes for earlier vpar merge (fs-uae/issues/93).
- Added segtracker to UAE debugger [cnvogelg].
- Imported updated translations from crowdin.com.

Changes in FS-UAE Launcher 2.7.14dev:
- Fixed recently introduced problem using joystick configuration tool.
- A3000 chip RAM was erroneously set to 1 MB.
- Added new languages to language selector: Esperanto, Dutch and Hungarian.
- Imported updated translations from crowdin.com.
WinUAE v3.3.0 Beta 13 FR (32-bit)
Dimanche 15/05/16 à 13:06 par Firebrand
La traduction de la dernière beta de WinUAE est désormais disponible en français.
WinUAE v3.3.0 Beta 13 (32-bit)
Dimanche 15/05/16 à 13:04 par Firebrand
Une nouvelle beta de cet émulateur Amiga pour Windows a été publiée. Les améliorations sont les suivantes:
- HALT10 was incorrectly triggered in some configurations (b12)
- Update ExecBase.MaxLocMem (and ChkSum) if more than 2M chip RAM is configured.
- It was not possible to fully disable enabled expansion device without restart. Checkbox was unticked but device was not fully disabled.
- Copper COPJMP blitter conflict bug emulation is again disabled (Breaks Batman Vuelve / Batman Group). There is still something unknown. I did some more tests and some blitter cycle sequences do not conflict with buggy copper cycle and correctly wait one extra cycle.
- Added IVS Trumpcard Pro/GrandSlam SCSI v4.9 ROM image. Emulation not yet implemented. "Trumpcard Professional Driver 4.9 - devs/IVS_SCSIpro.driver IVSSCSI 4.9 (20 Sep 1991)"'
- Variable Refresh rate updates. I finally bought G-Sync monitor, Acer Predator X34. Every emulator (any emulator!) user should get G-Sync or FreeSync hardware because variable sync has all the advantages of vsync without any vsync disadvantages!):
*Adaptive Sync renamed to Variable Sync. Adaptive Sync is name of DP variable refresh rate standard (which AMD's FreeSync is based on). "Official" generic name is Variable Refresh Rates but Variable Sync fits better with other VSync modes in GUI.
*Variable sync + black frame insertion is now supported in windowed and full-window mode. (I couldn't get G-Sync to work in normal windowed mode but it did work in full-window)
*Variable sync + black frame insertion is now supported in RTG modes.
*Black frame insertion is not enabled in variable sync mode if refresh rate would become larger than selected display refresh rate (fullscreen) or desktop refresh rate (windowed/full-window).
*Variable sync + black frame insertion and if doubled refresh rate is equal to selected/max hardware supported refresh rate: automatically reduce internal emulated refresh rate by 0.5Hz to guarantee glitch free display. (Workaround for monitors that have max refresh rate of 100Hz=PAL or 120Hz=NTSC)
Samedi 14/05/16 à 12:47 par Firebrand
2 versions de ePSXe pour MacOS ont été publiée, une avec interface utilisateur et l'autre sans. Veuillez vous référer aux fiches des émulateurs dans notre section PlayStation pour les instructions d'installation.
Jeudi 12/05/16 à 12:21 par Firebrand
La dernière version de ePSXe est désormais disponible pour Linux. Voici les améliorations spécifiques:
- Updated to 2.0.2 core, including a 32bit version, and a 64bit version (alpha).
- Updated the UI to gtk3.
- Included gamelist support (click on the PSX letters in the logo)
MedGui Reborn Stable v0.066
Mardi 10/05/16 à 12:02 par Firebrand
Une nouvelle version de ce frontend pour mednafen a été publiée. Voici les modifications apportées:
- Added Redump.org Cue Search
- Changed a bit psx Serial detection
- Changed sbi psx patch download Method
- Added any link on link section
- If you have carried out a scrape of a game , the next display of information will be offline
- Added "Force Scrape Update" option in TheGamesDB Scraper
- Fixed a conflict on NoIntro DATs and "Last Played Game/Favorites Rom" function
Hoxs64 v1.0.8.9 (32-bit) FR
Lundi 09/05/16 à 11:58 par Firebrand
La dernière version de cet émulateur Commodore 64 a été traduit en français par l'équipe de Tradu-France.
Lundi 09/05/16 à 11:54 par Firebrand
Ce frontend pour MAME qui fait dans la simplicité a été mis à jour. Les améliorations sont les suivantes:
- Added : Monochrome Compensation option which replaces certain settings with values suitable for monochrome or black & white games if monochrome.ini is in your MAME Classic support folder
- Added : New Core Render Option
- Added : New Direct3D Post-Processing Options
- Changed : Key names in the options.ini file which will cause MAME Classic to recreate the file at first launch
- Fixed : Game count on Splash screen and Refresh dialog not displaying properly
- Removed : Obsolete HLSL Curvature option
Lundi 09/05/16 à 11:52 par Firebrand
Une version de travail (uniquement pour Windows 32-bit) de cet émulateur multi-systèmes a été publiée. Voici la liste des changements:
General
- Fixed snapshots loading in some drivers
- Fixed value and type of the amplifier in some sound chips
- Cleaning some CPUs
- Completely eliminated references to the 'SDL2.pas' unit and improved the 'lib_sdl2.pas' to be independent
- GFX: fixed left rotate of the nonsquare graphics
- Z80
*Removed the special case of HALT opcode
*Fixed possible loose of timings after the execution of an opcode
- YM3812: Converted to classes
- Konami Sound
*Converted to classes
*Integrated Z80 sound CPU
*Integrated Frogger and Scramble sound driver
*Improved and corrected some drivers
*Separated into four types 'Time Pilot', 'Jungler', 'Frogger' and 'scamble'
- Updated 'Galaxians' samples and added 'Space Invaders' samples

Sega System 1
- Added custom Z80 timings

Popeye
- Added 2nd player controls
- Driver cleaning

Galaxian HW
- Galaxian: Added several sounds (samples)
- Fixed stars background

Space Invaders
- Added driver with sound (samples)

Centipede
- Added driver with sound
Messinfo.dat v10.11 (MAME/MESS v0.173)
Dimanche 08/05/16 à 14:12 par Firebrand
Ce fichier informatif pour MAME a été mis à jour. Voici les données modifiées:
- 10.11 07/05/2016: Aligned files to 0.173 version. Updated this files: 'sourcechanges.txt', 'changelog.txt' and 'alltimesMESS.txt'.
Dimanche 08/05/16 à 03:46 par Firebrand
Le mois de mai et déjà avancé, il est plus que temps de renouveler le sondage.

Voici tout d'abord les résultat du précédents: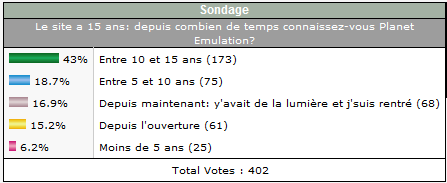 Pour la plupart d'entre vous, vous êtes de vieux briscards qui nous suivez depuis plus de 10 ans. Merci de votre fidélité!

Dans ce nouveau sondage, nous allons vous intéresser à vos habitudes de jeu. Préférez-vous jouer à vos anciennes machines (des origines à l'ère PS2) en mode "c'était mieux avant", que ce soit sur le véritable hardware ou en émulation, ou préférez-vous embrasser la modernité (de la PS3 à aujourd'hui) tout en gardant dans vos cœurs vos sensations d'antan? Ou alors préférez-vous ne pas choisir et de passer de l'un à l'autre si l'envie vous prend?

A vous de jouer!

Vous pouvez venir défendre vos positions dans ce topic sur notre forum.
Samedi 07/05/16 à 13:47 par Firebrand
Cet émulateur Commodore 64 a été mis à jour. Les améliorations sont les suivantes:
- Fix VIC where a write to the raster compare register was causing a raster IRQ to occur one clock too soon.
- This fixes "Vandalism News #64" http://csdb.dk/release/?id=138976 reported by iAN CooG/HokutoForce.

GameInit.dat v0.173 (0.09)
Vendredi 06/05/16 à 13:08 par Firebrand
Une nouvelle version de ce fichier pour MAME détaillant l'initialisation de certains jeux compliqués à démarrer a été mis à jour. De nouveaux jeux ont été ajoutés:
- 0.09 0.173 05/05/2016: 24 new entries added.

Jeudi 05/05/16 à 13:25 par Firebrand
Ce frontend multi-systèmes orienté multimédia a reçu une mise à jour rapide. Voici de quoi il s'agit:
- Just a quick update. This release adds support for the MAME software list naming convenstion in the GameEx databases. Note. It won't do much yet.I also wanted to give thanks to nightgaunt98 for sharing his artwork with the GameEx community and also thanks to the team working on the logos project.
RetroArch v1.3.4 (32-bit)
Jeudi 05/05/16 à 13:23 par Firebrand
Une nouvelle version de cette suite d'émulateur a été publiée. Les améliorations sont les suivantes:
Graphics improvements
- This is the simplified ribbon animation shown here. The more advanced one should be fullspeed on any GPU from 2008 and later.
- With version 1.3.4, RetroArch is encroaching upon launcher territory and will try to position itself as a fancy convenient 10-foot interface with plenty of eye candy.
- To start with, the XMB menu driver now has a ribbon animation running in the background that looks very similar to the graphics you'd see on the PS3 GameOS. There are two variations on this, a simplified version (which should run at fullspeed on even old 2005-2006-era GPUs) and a more advanced version with light sourcing.
- The background color gradient can be changed easily by going to Settings -> Menu and changing Background Gradient. There are several predefined color variations you can select from.

Thumbnails and boxart
- h0ybHdYWe now have our own server that is going to be serving up boxart/thumbnails to the frontend client. We call our thumbnail collection project 'libretro-thumbnails'.
- Content in the horizontal playlist will have thumbnail icons shown next to it. By pressing the Y button on your RetroPad, you can switch inbetween the different thumbnail modes: Title screen, Snap shot, and Boxart.
- In order to grab this boxart, you can go to Online Updater -> Update Thumbnails. Download the boxart set for the system you need and it will automatically extract it to the thumbnails directory. The boxart sets will be updated daily and it's possible for people to contribute.

Nintendo 64 – LLE RDP and graphics plugin unification
- There's a lot I could show but Themaister felt it would be premature to post anything yet, so instead I will just point you to the public information that is already out there: http://forum.pj64-emu.com/showthread.php?t=5627
- This is an entirely new project using Angrylion merely as a base but taking full advantage of the compute shader capabilities of OpenGL 4.3+/Vulkan. PLEASE NOTE: NOTHING IS READY YET, NOT EVEN SOMETHING THAT CAN BE PLAYED, so unless your idea is to watch some pictures, there is nothing to badger the developer about yet, so please don't :).
- At the same time while this is going on, I am busy consolidating all of the various graphics plugins in Mupen64 libretro so that we can arrive at a hybrid renderer solution. Most of the code in these HLE RDP plugins is about 80 to 90% copy pasta so it should not prove too hard unifying Rice/GLN64/Glide64/Gliden64 and arriving at one video renderer that combines the best of all of them. We could then allow for several different code paths (some meant for performance, others meant for accuracy) instead of requiring users to have to switch between graphics plugins and restarting Mupen64 again.

PlayStation
- Simias has been putting a lot of effort into Rustation lately and the Mednafen/Beetle PSX-compatible renderer plugin. It's not ready for release-time yet but we (well, mostly a guy called r5) are steadily working on a C++ conversion of the Rust code.
Some of the features that have been implemented so far include:
*Alpha blending – not yet complete and accurate but covers most of the cases.
*Internal resolution upscaling – up to 8x.
*Bilinear and 3-point filtering sampling – the latter is the sub-bilinear filtering algorithm from the N64.
*Preliminary perspective correction – this is Rustation-only for now.
*In other news, PBP support has now been integrated into Mednafen/Beetle PSX. It won't support real PS3/PSP PBP images yet, so you will have to go with pre-converted PBP images that are not encrypted. However, it might be possible to have it run real PBP encrypted images as well later on.
- I'm going to be working on helping r5 out with this C++ conversion of the GL renderer so we have something preliminary to show soon.

Miscellaneous release notes
*(Android) An important bug got fixed that prevented two buttons from being toggled at the same time. This should help with arcade games a lot.
*(Android) Devices which qualify as a games console (like the Nvidia Shield Tablet/Console) will boot into the XMB menu driver instead of the default touch-oriented GUI instead.
*(Mac OS X) Library / Application Support / RetroArch is used for storing configuration files now like it was in the past. Sorry about this inconvenience in the past version.
*(Vulkan / Windows) Should be usable on Windows now.
*Arcade games can be scanned now for FBA and MAME cores.
Mercredi 04/05/16 à 13:38 par Firebrand
Deux mises à jour consécutives ont été publiées pour ce frontend orienté multimédia.. Les améliorations sont les suivantes:
v14.46:
- Several cosmetic improvements in this release making every theme look better in my opinion. There is per pixel scrolling of the game list and a new default list transition. I really got tired of the list zipping left and right.MAME software list files are now supported via specifiying a hash XML file under advanced emulator settings. It is not full MAME support but it does allow you to use other emulators with MAME software list games and get the correct game names.

v14.45:
- Fixes for latest Steam client.
- Fix for images with alpha in thumbnail view.
Mardi 03/05/16 à 12:34 par Firebrand
Une nouvelle version de ce fichier permettant de trier les machines émulées (arcade ou domestiques) par MAME en différentes catégories a été publiée pour MAME v0.173.
Mardi 03/05/16 à 12:27 par Firebrand
Ce fichier permettant de classer les jeux MAME selon la version de l'émulateur a été mis à jour pour MAME v0.173.
Mardi 03/05/16 à 12:22 par Firebrand
Une nouvelle version de ce fichier additionnel permettant de trier le jeux MAME qui n'ont pas d'affichage vidéo a été publiée avec les nouveaux jeux de MAME v0.173
Mardi 03/05/16 à 12:13 par Firebrand
C'est décidément la fête aux bugs en ce moment chez Emu Loader. Il est recommandé de supprimer le fichier mame_machineslast.ini avec cette mise à jour. Voici le contenu de ce nouveau correctif:
Don't you get angry when customize the machine names to run software list games and after creating a new MAME games list, it's all lost ?
That's now fixed. Many thanks to Jaylinx for reporting this problem.
Machine to Run Game has changed (games popup menu). If you have dozens of customizations already and don't want to start fresh, move file mame_machineslast.ini from eldir\arcade\ to eldir\ini_files\ folder, and rename it to mame_machines_usercustom.ini.
I recommend you delete mame_machineslast.ini because this file doesn't list all software lists anymore. Just the ones you customize.
Since MAME doesn't have a default machine for each software list, EL uses the first one listed in \arcade\mame_machines.ini as default. I know this is not ideal, but it works.

Fixed
- Danger, Will Robinson. DANGER! Feature "Machine to Run Game" was resetting user custom machine names to their default values when creating a new MAME games list (games popup menu)
*file file "mame_machineslast.ini" renamed to "mame_machines_usercustom.ini" and moved from "\arcade\" to "\ini_files\" folder
*file "\arcade\mame_machines.ini" is now used to get default machine names for each softlist file
*file "\ini_files\mame_machines_usercustom.ini" now only list machine names that differ from default machine names in "mame_machines.ini" (default is the first machine listed in each section... MAME has no default machine for software lists)
*fixed a crash when a machine is not selected in the list and you click "Confirm" button
*file "\ini_files\softlist_exclude.txt" renamed to "ini_files\mame_softlist_exclude.txt" ("Customize Software List" in main menu)

Added
- Partial support for software lists in HBMAME; it might never be used by the emulator, but you never know...
Lundi 02/05/16 à 13:35 par Firebrand
Ce fichier permettant de classer les jeux MAME par séries a été mis à jour pour MAME v0.173. Les données modifiées sont les suivantes:
- Entries RENAMED: (dsaber) to (dsabera), (majest12) to (majest12j) and (wangmd2b) to (wangmid2).
- Entries REMOVED: (tv1943), (tvaburn), (tvbomber), (tvdrgnst), (tvopwolf), (tvpaclnd), (tvpdrift), (tvraiden), (tvrs2), (tvrtype2), (tvshnobi), (tvslmndr), (tvsson2), (tvtcrst2) and (tvxvious).
- Series ADDED: -
- Series UPDATED: Beast Busters, DonPachi, ESP Ra.De., Galaxian, Ketsui: Kizuna Jigoku Tachi, Major Title, Mortal Kombat, Operation Wolf, Print Club, Raiden, Space Invaders and Wonder Boy.