Nestopia - Undead Edition v1.48 FR
Mardi 19/09/17 à 13:22 par Firebrand
La dernière version de cet émulateur NES a été traduite en français par l'équipe de Tradu-France
MedGui Reborn Stable v0.089
Mardi 19/09/17 à 13:21 par Firebrand
2 mises à jour de ce frontend pour Mednafen ont été publiées consécutivement. Voici la liste des nouveautés:
v0.089:
- Fixed a bug with date format with different time zone
- Added a control to prevent upload of file greater than 10 mb on MedClient
- Added a function to clean all missing game from a prescanned list
- Added a option to rescan Custom Scan Folder
- Added the possibility to close MedGuiR if Mednafen process is already opened
- Added a function to verify prescanned file, if there are missing file MedGuiR will prompt a message to delete it
- Added all supported resolutions by installed video card on video setting section
- Fixed and removed any website from the list of rom finder
- Removed others annoing popup when it is not necessary
- Added a new About window with all reference to people that help me in this project
- Added a function that control bad or empty Rom Path 1/2
- Added a button to unlock/reset on NetPlay section MedClient value

v0.088:
- Added a progress bar when the user perform a folder scan or load a prescanned rom set
- Now multi compressed archive file will be not extracted on RomTemp folder, but will be streamed and will be extracted only the file selected on the grid by the user
- Reduce too much the time of Preload/Scan Rom set
- Now non supported files by Mednafen or MedGuiR will be skipped with no more error
- On MedClient, now open file dialog purpose the selection of all file or the specific game
- Added a purge function for auto backup made by MedGuiR to preseve space
- fixed the question multitap on MedClient
- fixed the wrong detection of path of snes and pce roms when you load a faust_snes or pce_fast session on MedClient
- Removed psxt001z.exe and added DiscSN.dll (by Asnivor) to detect PSX serial number, now all psx will be detected (many Thanks to Asnivor to port the dll in net 2.0)
Mardi 19/09/17 à 13:11 par Firebrand
Cet émulateur multi-systèmes a été mis à jour. Les améliorations sont les suivantes:
- Set cheat's default endianness to that preferred by the system being emulated when manually adding a cheat that's not a cheat device code nor the result of a cheat search.
- SS: Fixed SCU DSP DMA from B-bus; fixes the periodic loud popping in Grandia's FMV.
- SS: Added a hack/kludge to allow bypassing of data cache on reads(such that the timing benefits of partial cache emulation are preserved, without cache coherency problems that partial cache emulation sometimes leads to with poorly programmed games), and added an internal database to enable it on select games; fixes graphical glitches and/or hangs in "Area 51 (USA and Europe)", "Clockwork Knight 2 (USA)", "DeJig - Lassen Art Collection", "Father Christmas", "Golden Axe The Duel", "Sega Saturn Choice Cuts", "Spot Goes to Hollywood (USA and Japan)", "Street Fighter Zero", "Street Fighter Zero 3", "Super Puzzle Fighter II Turbo", and "Virtual Volleyball".
-SS: Full cache emulation is now enabled for "Whizz"(by using an internal database), to resolve(or at least reduce) quasi-random hanging issues during startup.
- SS: Corrected an inaccuracy with CDB play repeat handling; fixes hang when trying to resume a suspended game in "Tactics Ogre".
- SS: Initialize VDP1 clipping and local coordinate registers only on power-on, and not on reset.
- SS: Fixed side-effect inaccuracies in the CDB Put Sector Data, Copy Sector Data, and Move Sector Data command emulation.
- Added configure option "--with-external-trio", for distribution packagers.
- SS: Added partial emulation of SH-2 external bus open bus behavior; fixes messed up colors in "Discworld 2".
- SS: Improved CDB Initialize command emulation; fixes crash in "Tenchi Muyou! Ryououki Gokuraku" when it tries to play an opening movie during startup.
- SS: Made CD seek overhead calculation less completely wrong; fixes graphics corruption in intro of "Batman Forever", and fixes hang in "Jung Rhythm" when trying to retry a failed stage.
NPlayers.ini et NPlayers32.ini v0.189
Lundi 18/09/17 à 12:18 par Firebrand
Ces fichiers permettant de trier les jeux MAME selon le nombre de joueurs supporté a été mis à jour avec les jeux de MAME v0.189.
Lundi 18/09/17 à 12:16 par Firebrand
Ce version de MAME pour Ubuntu a reçu les dernières nouveautés de la v0.189 de MAME.
Lundi 18/09/17 à 12:13 par Firebrand
Cet émulateur Commodore 64 a été mis à jour. Les améliorations sont les suivantes:
1) CIA serial and CNT timing improvements thanks to test programs written by Mariusz.
2) Added VIC-II colour palette user configuration dialog box.
3) Added command line options (see hoxs64.txt) to support the VICE 64 testbench.
4) Changed the colour RAM reset pattern to use bytes $0C and $03 as per the same C64C whose RAM reset pattern is already used.
Highscore.dat (unofficial) v14/09/2017
Vendredi 15/09/17 à 14:09 par Firebrand
Ce fichier vous permettant de conserver vos meilleurs scores sur MAME a été mis à jour pour MAME v0.189.
- Released Hiscore.dat For mame v0.189, quite a lot of additions this time....

Lundi 11/09/17 à 12:18 par Firebrand
On n'a pas trainé chez Tradu-France pour traduire en français la dernière beta de WinUAE!
Lundi 11/09/17 à 12:16 par Firebrand
Une nouvelle beta de ce célèbre émulateur Amiga a été publiée. Voici la liste des modifications:
- If DirectDraw mode surface allocation fails, retry it with smaller size.
- Smaller than 512 block size and writing to HDF block zero was always detected as failed.
- SCSI MODE SENSE format parameters/rigid drive geometry and uaehf.device TD_GETGEOMETRY didn't return manual physical geometry if it was set.
- If config file has sound driver name that can't be found, try to find default device of same type before defaulting to first in list.
- 68030 MMU + prefetch mode delayed bus error fix.
- Added Cubo CD32 config dip switches (Cubo Switch #1 to #8), event activation = switch state toggled. State is only logged, perhaps some kind of on-screen message will be added later.
- Added Cubo CD32 option in Quickstart panel. Currently only enables serial port fake touch screen used by some later games, responds "ok" to all touch screen commands.
- Expansion panel string datatype was unimplemented (forgotten..). NIC MAC option is now visible.
- Disassembler [xxxx] data values (b3) now support 68030+ data caches. If data is located in cache and data in memory is identical, it is prefixed with *, if data is cached and data in memory is different: [value in cache:value in memory]
- Ignore DMS unpacking errors if all data is already unpacked (for example if dms has extra data at the end etc)

Lundi 11/09/17 à 12:14 par Firebrand
Ce vénérable émulateur de consoles Nintendo 8/16-bit a été mis à jour. Le site officiel étant en japonais, j'ignore les améliorations apportées.
Lundi 11/09/17 à 12:10 par Firebrand
Cet émulateur PC-Engine pour Windows est mis à jour fréquemment ces derniers temps. Voici les nouveautés de cette version:
- When "CD-ROM disc is switched" while playing CD games with CD-ROM drive, the game you switched automatically will be activated. Also, if you take out the CD-ROM during the game, the game will be paused automatically for safety.
- "CD access status (seek & read)" is displayed when playing a CD-ROM game. Currently it is only in window mode, it is displayed on the right side of "Ootake" at the upper left of the window. If you are using a PC with low power, or unnecessary, uncheck "View CD Read Access" menu on "CD-ROM" menu (the third row from the top).
- The play process of ADPCM sound approached the real machine. In "Cobra II", at the desert town motorcycle ride scene, the stopped problem (occurred from v2.83) was solved.
- The play operation of ADPCM sound approached the real machine. In "Seisenshi Denshou", the problem that voice audio was interrupted was solved.
- In "Ys book I&II (U)", when entering the Tower of Darm, with environment where CD-ROM access is fast, the problem that Gorban's voice sound was interrupted was solved.
- When "Tokimeki Memorial" is started, the decision button of the mouse is automatically set to left click. If you do not need this, uncheck the "Setting-> Improve-> Auto Set Left Click (Tokimeki Memorial)" menu.
- When "1552 Tenka Tairan" is started, mouse mode is set automatically. (omitting the SELECT button press on the start screen) If you do not need this, uncheck the "Setting-> Improve-> Auto Use Mouse (1552 Tenka Tairan)" menu.
- Additionally, a detailed part has been improved and corrected.
Messinfo.dat v0.189 (10.38)
Jeudi 07/09/17 à 14:09 par Firebrand
Ce fichier informatif pour MAME a été mis à jour. Voici les données qui ont été modifiées:
- 10.38 06/09/2017: Fixed some new "DRIVER STATUS".
- 10.37 05/09/2017: Aligned files to 0.189 version.
- 10.36 20/08/2017: Added versions were are added the device (now up to the 0.160 version) and many error fixed.
- 10.35 15/08/2017: Correction continues in file formatting and even removal of ROMs of each machine (now visible by MAME itself).
GameEx et GameEx Arcade Edition v14.90
Jeudi 07/09/17 à 14:08 par Firebrand
Une nouvelle version de ces frontends a été publiée. Celle-ci n'intéressera surtout, pour l'instant, que les développeurs car elle permet de créer ses propres modules annexes. Les utilisateurs en retireront probablement un bénéfice plus tard lorsque les premiers modules additionnels seront sortis:
- A major new feature for developers in this release. Introducing AddIns.
- Addins allow you to programmatically create your own modules (lists and menus) and play, list and launch anything..
- You can for example create your own video or multimedia modules somewhat similar to how some Kodi AddOns work.
- It's not overly complicated to get started and there is a full example available here.
- They are also now part of the official GameEx repository.
Mercredi 06/09/17 à 13:41 par Firebrand
La dernière version de WinUAE est désormais disponible en français grâce à Tradu-France.
Mardi 05/09/17 à 14:07 par Firebrand
Cet émulateur ZX-Spectrum a été mis à jour. Les versions pour les différents systèmes d'exploitation étant faite par des personnes différentes de manière indépendante, seule la version Windows est pour l'instant au niveau des dernières sources disponibles. Les améliorations sont les suivantes:
- Add DivMMC emulation
- Add ZXMMC emulation
- Add support for MLT format screenshots

Lundi 04/09/17 à 14:42 par Firebrand
Ca y est, c'est la rentrée. Fini la bronzette, retour à la grisaille, au boulot, aux emmerdes et au troisième tiers qui vous attend de ferme dans la boîte aux lettres pour vos retours de congés! Vivement les prochaines vacances, hein?

Vous avez été nombreux à répondre à notre sondage de l'été et je vous en remercie. Voyons donc les résultats.





Nous sommes bien sur un site à tendances geek car la majorité d'entre vous a préféré rester chez soi la manette à mortée de main. On note néanmoins une proportion équilibré entre ceux qui préfèrent totalement décrocher et ceux qui préfère garder une sécurité sous le coude en cas d'ennui lors des déplacements estivaux.
On gardera une dose de compassion pour ceux qui n'était par encore en vacances lorsqu'ils ont répondu au sondage, ou qui n'ont pas du tout pu en profiter.


Pour le sondage de septembre, on change totalement de registre avec les jeux dématérialisés. Quelle est votre position vis à vis d'eux?
Etes-vous de ceux qui ne jure que par les versions physiques en boîte? Préférez-vous consulter votre collection directement sur votre machines? Ou peu vous importe tant que vous avez le jeu?
A vous de nous le dire dans ce nouveau sondage!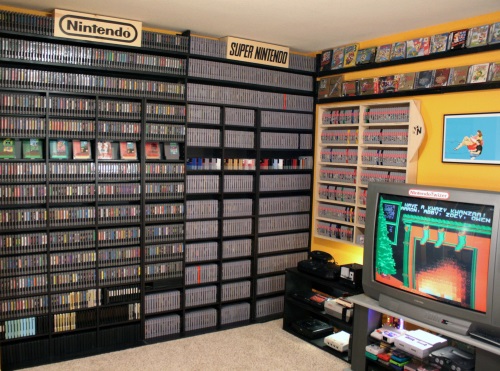 Ca a tout de même plus de gueule qu'une bibliothèque Steam!



Vous pouvez venir défendre votre choix sur notre forum!
Fichiers addtionnels v0.189
Lundi 04/09/17 à 12:57 par Firebrand
AntoPISA nous livre une premoère série de ses fichiers addtionnels pour MAME v0.189. Voici ce qu'ils nous réservent:
Series.ini v0.189:
- Items RENAMED (13): (1943ja) to (1943jah), (brapboysj) to (brapboyspj), (brapboysu) to (brapboyspu), (cawingu) to (cawingur1), (inttootea) to (inttoote2), (podrace) to (swracer), (shocktro) to (shocktroa), (shocktroa) to (shocktro), (vendetta2p) to (vendetta2pw), (vendettaj) to (vendetta2pp), (vf4evo) to (vf4evob), (wwfsstaru) to (wwfsstaru7) and (wwfsstarua) to (wwfsstaru4).
- Series UPDATED (15): 194X, Chase H.Q., Crazy Climber, Crime Fighters, Derby Owners Club, DJ Boy, DonPachi, Donkey Kong, Popeye, Print Club, Street Fighter, Tekken, U.N. Squadron, Virtua Fighter and WWF Superstars.
- Series ADDED (1): Sexy Gal.

BestGames v0.189 (1.2):
- 2017/09/03 1.2: Online the version 0.189; 1 game added (thoop2).

Languages.ini v0.189 (0.77):
- 2017/09/03 0.77: Added 0.189 sets.

Lundi 04/09/17 à 12:50 par Firebrand
Ce gestionnaire de ROMs fête ses 20 ans! Merci à Roman Scherzer pour sa constance sur une période aussi longue. Et c'est lui qui nous fait un cadeau avec cette nouvelle version:
- fixed: xml parser to handle > character within an xml attribute correctly
- fixed: wrong "missing but fixable" message (mainly chd) when set check is disabled which covers the actual message
- fixed: dir2dat archives with folders produce wrong output
- fixed: stats count of missing roms for clone sets which only consist of parent roms (and chds)
- fixed: stats count of missing chds in case set check is disabled
- fixed: fixmissing skips the set with the missing file itself for checking for a possible match and might miss a possible fix (pretty rare that a set holds identical files, but e.g. MAME's 188 "pippin" does)
- misc: use MoveFile instead of CopyFile also for disabled remove-rebuilt-source when possible
- misc: drag'n drop operations now work when you use "run as admininistrator" to run cmpro in an UAC protected folder
- misc: changed softwarelist import to always import all and filter specific afterwards. Solves problem where MAME does not print out data for some.
- misc: remove possible empty setfolder when a chdfile is moved
- misc: cmpro.ini setting Adv_AvoidPCSleep=on can be used to avoid PC switching to hibernate/sleep mode during scan/merge/rebuild/dir2dat operations (default = on, i.e. it won't switch)
- misc: updated to rar 5.50

MedGui Reborn Stable v0.087
Lundi 04/09/17 à 12:44 par Firebrand
Une nouvelle version de ce frontend pour Mednafen ainsi que de son standalone MetroMed a été publiée. Voici la liste de nouveautés:
- Removed excessive and annoyng message when you start a psx game
- Fixed not saved "Famicom Expansion Port" parameter
- Added a new NoDesync preset for Famicom Expansion Port 4player/partytap
- Added new advice for disable multitap on Saturn and Nes module
- Fixed a bug that question at the user to disable the multitap on snes module when you select a nes module.
- Fixed the wrong Faust append text on Setting window when you open NES setting.
- Fixed a bug on load setting with alternative module (pce_fast/snes_faust)
- Added the possibility to save and read Port from List Server
- Added a button to reset all Mednafen and MedGuiR configurations
- Added Mednafen version and the appendix "ByUpdate" into backup config to detect easly the type of backup.

MetroMed Beta 07:
- Added Port input text on advanced netplay menu
Nestopia - Undead Edition v1.48
Lundi 04/09/17 à 12:40 par Firebrand
Ce bon émulateur NES a été mis à jour. Les améliorations sont les suivantes:
Shell:

Additions:
- Remember previous ROM directory (fabiengb)
- Added an option to disable the cursor
- Added ability to load custom palettes
- Added many palettes to extras (FirebrandX, BMF, others)
- Added monochrome blargg NTSC filter
- Added new build systems: CMake and Autotools (David Seifert)

Changes:
- TV Aspect Ratio changes depending on region

Fixes:
- Made the region selector more coherent
- Fixed a bug that switches video modes rapidly
- Revamped region selector code
- Fixed fullscreen switching too fast
- Fixed region selector when the XML database is not present


libretro:

Additions:
- Added ability to load custom palettes
- Added turbo buttons
- Added many palettes (Monroe88)
- Added monochrome blargg NTSC filter (dalter)
- Added Turbo A/B buttons


Core:

Additions:
- RAM Power-on State setting
- Support for mapper 23.10

Fixes:
- VRC2 Mirroring bug (koitsu, lidnariq)
- Dendy timing and audio fixes (FHorse, Eugene.S)
- Removed unused code in APU
- Properly initialize RAM - fixes F-1 Race (koitsu)
- Silenced many build warnings (orbea)
Dimanche 03/09/17 à 14:20 par Firebrand
Ce frontend minimaliste par l'auteur de MAMEUI64 a été mis à jour pour la compatibilité avec MAME v0.189:
- Minor maintenance release to support new feature element from .189's XML output.