Mercredi 16/05/18 à 11:08 par Firebrand
Cet émulateur MSX 1 et 2 vient d'être mis à jour. Les améliorations sont les suivantes:
- lets you pause replay at any time with the UP button and then browse through it backwards and forwards with LEFT and RIGHT buttons. Once satisfied, you can resume replay with UP, or continue playing by pressing any other button.
NPlayers.ini et NPlayers32.ini v0.197
Lundi 14/05/18 à 13:15 par Firebrand
Ces fichiers permettant de trier les jeux MAME par nombre de joueurs a été mis à jour pour MAME v0.197.
Vendredi 11/05/18 à 12:36 par Firebrand
Cet émulateur GameBoy Advance a été mis à jour. Les améliorations sont les suivantes:
- fixes a bug when writing bytes to palette memory, and another bug that occurred when reading words from the BIOS area (something no sensible person should do, but some games have done). I also removed outdated code, rebuilt the program with strict compiler warnings, and fixed them.

Jeudi 10/05/18 à 13:37 par Firebrand
Grâce à la rapidité de Tradu-France, la version traduite en français de la dernière beta de WinUAE est déjà disponible.
Jeudi 10/05/18 à 13:35 par Firebrand
Et encore une nouvelle version beta pour WinUAE. En voici les améliorations:
- D3D11 mode screen was not fully refreshed when returning back to fullscreen RTG mode with ALT-TAB/GUI exit
- Inserting or removing USB device with very long internal device name caused a crash.
- Inserting USB device may have also logged some other already connected device as newly inserted.
- Fixed JIT FPU FETOXM1.
- If D3D11 mode with level 9.x hardware: test in init phase if main texture creation succeeds, fallback to D3D9 if it fails. It may unexpectedly fail with some old and broken drivers. Previously it would have caused blank screen.
- RTG screen was not updated if only hardware mouse cursor moved and RTG OSD was not enabled or multithreaded RTG was not enabled. (b8)

Mercredi 09/05/18 à 12:29 par Firebrand
Une nouvelle version de cet émulateur Commodore 64 pour MacOS a été publié. Les améliorations sont les suivantes:
- This release contains several compatibility improvements. My special thanks go to David Horrocks, the author of Hoxs64. By peeking into his source code, I was able to rule out a couple of incompatibilities in my own code.
- The eagle soft loader bug has been resolved. Maniac Mansion and Zak McKracken load fine now.
- Fixed a bug that caused the emulator to crash when clicking an empty row in the disk user dialog.
- Fixed a bug that caused a press of the TAB key not to be recognized.
Emu Loader v8.5.7 (mise à jour)
Mardi 08/05/18 à 12:47 par Firebrand
Une nouvelle mise à jour a été publiée pour ce frontend multi-systèmes. Voiciles nouveautés:
Seduced by the dark side, Emu Loader was. Yes, hmmm.
More dark themed stuff. Messages box succumbed to the darkness... but it can be turned back to the good side with the unticking of a checkbox.
Additional tweaks to Neo-Geo MVS (run multiple Neo-Geo games). Plus, more bug fixes.

Fixed
- Severe memory leaks after closing the clean install dialog (1 thousand memory blocks), caused by two TStringList vars
- All selected Neo-Geo MSV games are listed in "Run Game Confirmation Dialog" if you select a Neo-Geo machine with less cart slots

Changed
- Remade some console/computer system icons so they can be properly used with dark backgrounds

Added
- Dark themed message box... lights out!
*just tick the new "Night Mode" checkbox in the dialog's lower left corner
*since the RichEdit text colors cannot be changed "on-the-fly", it will only take effect next time the dialog appears
- "Multi-slot Machine" text added to show the selected "Neo-Geo MVS" machine before listing the games ("Run Game Configirmation Dialog")

Lundi 07/05/18 à 12:59 par Firebrand
Une nouvelle version de développement de cet émulateur Amiga est disponible mais uniquement pour Windows. Aucune information à son sujet n'a été donnée.
Lundi 07/05/18 à 12:54 par Firebrand
Ca fesait un moment qu'on n'avait pas eu de nouvelle de ce build de MAME pour Ubuntu. Il est maintenant à niveau de MAME v0.197:
In sync with upstream at last! Packages ready for Ubuntu Artful Aardwark 17.10 and new LTS Ubuntu Bionic Beaver 18.04.
The usual amount of issues solved, mainly dealt with by Debian maintainer Jordi Mallach. Thank you Jordi!
Advice for non-PPA users: please note that an updated package for RapidJSON is required for artful; you'll need to download it as well. What about adding the PPA to your sources? :-)
Fin du temps d'attente pour le téléchargement des ROMs
Lundi 07/05/18 à 09:58 par Dinofly
Lorsque nous avons lancé Planet Emulation, les formules d'hébergements de sites web étaient limitées en termes de traffic autorisé; c'est pourquoi nous avions mis en place une limite au nombre de téléchargements de ROMs par utilisateur, basée sur la taille des fichiers. Aujourd'hui nous estimons que cette limite n'a plus lieu d'être, et nous l'avons donc supprimée.
Vous pouvez donc désormais télécharger sans limite, en espérant que vous resterez raisonnables !
Dimanche 06/05/18 à 14:35 par Firebrand
Les journées se réchauffent, les tenues s'allègent et on a envie de ressortir le barbecue (si on en a un). Néanmoins, une bonne petite partie de jeu vidéo reste une valeur refuge si un temps prévu clément tourne au vinaigre.

L'utilisation d'une console virtuelle peut très bien remplir cet office. Voyons ce que les utilisateurs de ces fonctions en pensent dans le sondage du mois dernier.





Sans surprise, c'est la facilité d'utilisation qui remporte haut la main vos choix. Pas besoin d'un deuxième tour. Pas de réglage à faire, on paie, on télécharge, on joue.
Pour les deux autres choix, vous êtes presque a égalité, mais on note que le fait d'avoir vos jeux sur toutes les machines disponible et plus important que leur portabilité.


Pour le mois de mai, on va revenir sur de l'émulation plus traditionnelle. Cette fois, nous allons nous intéresser au type de machine de prédilection pour l'émulation.Préférez-vous émuler les consoles, les vieux micro-ordinateurs, une bonne vieille borne d'arcade ou vous passionnez-vous pour les systèmes plus exotiques comme en propose MAME/MESS en quantité? A vous de jouer!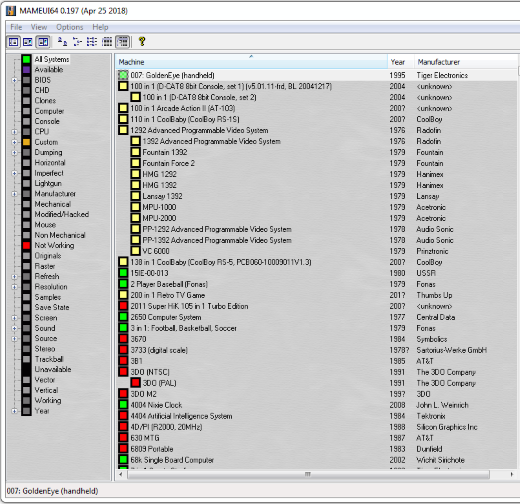 MAME émule une variété considérable de machines différentes.



Vous pouvez venir défendre votre choix sur notre forum!
Dimanche 06/05/18 à 13:03 par Firebrand
Toujours aussi réactifs chez Tradu-France, la traduction en français de la dernière beta de WInUAE est déjà disponible!
Dimanche 06/05/18 à 13:01 par Firebrand
Une nouvelle beta pour WinUAE a été publiée. Voici la liste des améliorations:
- CL horizontal doubling used wrong width size, fixed buffer overflow (b7).
- CL horizontal doubling multiplier changed to 9/10. Old value missed 320*200 resolution.
- 64-bit host FPU FMOVECR constants that didn't fit in double were clamped to max when they should have been set to infinity.
- All logarithmic and trigonometric functions now use assembly code from existing JIT functions in new 80-bit host FPU mode. This should be feature complete now.
- Multithreaded RTG now only does color conversion/copy in separate thread, present() is done in main thread because of possible thread safety problems.
- Added quite pointless power led switches off/dims misc panel option. Affects OSD power led and D3D led overlay power led brightness.

Samedi 05/05/18 à 13:03 par Firebrand
Cette nouvelle version de RetroArch met surtout en avant une nouvelle interface. Comme toujours, les release notes très explicatives et richement illustrées sont disponibles sur le site officiel. En attendant, voici le résumé des changements:
- AUDIO: Audio mixer supports FLAC/MP3 file types now!
- COMMON: Fixed bug 'crashing in cores that don't range check retro_set_controller_type'. Some people were having crashes when device is set to RETRO_DEVICE_NONE and the cores don't check the number of ports, in VBAM's case it was overflowing and crashing. QuickNES was crashing too.
- COMMON: Fixed buffer overflow in url encoding (affecting MSVC2010/2013).
- COMMON: (QuickMenu) Added Configuration Override submenu.
- HID: Merge new HID subsystem.
- HID: Fix WaveBird support for the Wii U GCA.
- HID/OSX: Fix regression with IODHIDManager – gamepads which are connected later would not be autoconfigured.
- LOCALIZATION: Update Italian translation.
- LOCALIZATION: Update Japanese translation.
- LOCALIZATION: Update Portuguese translation.
- MENU: New WIMP Qt GUI!
- MENU: Audio mixer now works in the menu without any cores loaded. You have to enable the setting 'Enable menu audio' for this to work.
- REMAPPING/OVERLAYS: Fix regression – overlays could no longer be remapped.
- SCANNER: Add Wii Backup File WBFS support.
- X11: CRT SwitchRes support for X11/Linux.
Vendredi 04/05/18 à 12:56 par Firebrand
Une nouvelle version de ce fichier informatif pour MAME a été publiée. Voici les modifications apportées:
- Added many info for Japanese computers games (x68k, pc98, etc...)
- 5802 lines added/updated according to WinMerge.

Emu Loader v8.5.6 (mise à jour)
Jeudi 03/05/18 à 12:59 par Firebrand
Le chasse aux bugs continue avec cette nouvelle version d'Emu Loader. Voici ceux qui ont été éliminés:
Fix out of focus bug at startup, take 3... action!
This time it's gone for good. Thank you Geoman for helping with beta tests. Another bug resisting the purge was arcade emulator filename being emptied when detecting a new MAME build at startup.
I hope I can get some rest now and actually enjoy using a "most of the time" bug-free frontend.

Fixed
- Holy crap-a-monium! Fix losing arcade emulator filename from "\arcade\emulators.ini" at startup, take three
*the info will be saved in .ini file only if emulator date/time stamp has changed
*whatever happens, current emulator info entries and system sections are no longer deleted from .ini file (garbage entries mode ON)
*only at "Arcade Emulator Setup" screen "emulators.ini" will change (add/delete entries and sections)
M- AMu_ icons folder path saving twice to "mame\ui.ini" after exiting "Preferences" screen
- MAMu_ icons folder path read from MAME and then read again from HBMAME (only MAME's "ui.ini" is used)

Changed
- Reverted back some function calls in main screen's OnShow() event to OnActivate() event like it was in EL v8.4.7 as the newer tweaks were causing weird problems
Jeudi 03/05/18 à 12:56 par Firebrand
Une nouvelle version de ce très bon émulateur PC-Engine a été publiée. Voici la liste des nouveautés:
- The display delay is removed by 1 frame.
- "Plus 2 frames delay" of Windows Aero(Windows Vista and 7) and Windows 8(8.1)/10 is also removed. Depending on the PC environment, together with the above, 3 frames delay is removed.
- "Remove Lag 3F", "Remove Lag 1F", "Remove Lag 0F" was added to "Screen" menu. You can toggle whether or not "the display delay reduction processing" described above. When "Remove Lag 0F" is selected, the same display delay as v2.87 or earlier version of Ootake will be obtained. Switching "3F" or "0F" on Aero (Win7/Vista) or Win8/10, I think that delays(lag) can be experienced with shooting games and sports games.
*In addition, I am planning to describe this delay reduction technology on the Ootake official website soon. http://www.ouma.jp/ootake/
- XInput compatible game pad can be used. By using Microsoft's driver, it was able to use it so far. In this version upgrade, if the input responds of XInput earlier, it will take precedence.
- Backup RAM (Ten no Koe 2) file has been formatted to save only the required 2KB. I think that this is probably interoperable with the save data of Mednafen(wonderful emulator!). You can also read the 8KB file("_bram.dat") saved in the past version and the backup RAM file(8KB) of another older PCE emulator.
- Fixed a bug (occurred in v2.87) in which buttons IV to VI sometimes did not work depending on the environment in 6-button pad compatible games.
- The timing approached the operation of the real machine. In "Terraforming", the problem that the screen collapsed (occurred from v2.81) has been resolved.
- In VS 2008 in my development environment, the setting at the time of build prioritized the operation speed.
- Additionally, a detailed part has been improved and corrected.
Jeudi 03/05/18 à 12:51 par Firebrand
Cet émulateur ColecoVision a été mis à jour. Les améliorations sont les suivantes:
- adds support for 2kB SRAM found in the Lord Of The Dungeon game. There is also support for the Super Game Module (SGM) hardware, 24c08 and 24c256 EEPROM chips, and other new hardware. Incompatibility between save states produced on 32bit and 64bit systems has been fixed as well.

Mercredi 02/05/18 à 13:05 par Firebrand
Ce frontend pour Medndafen a été mis à jour. Les améliorations sont les suivantes:
- [Windows] Fixed left trigger not working using XInput controllers (Thanks to Pcegames for report and testing).
- [Windows] Fix to accept up/right D-Pad inputs in controller setup on some conditions (Thanks to SatoXa for report and testing).
- [Linux] Use the 'MEDNAFEN_HOME' environment variable when it is set (Patch by denisfa).
- Some minor fixes.
Emu Loader v8.5.5 (mise à jour)
Mercredi 02/05/18 à 13:02 par Firebrand
Une nouvelle vague de correctifs a rapidement été publiée pour ce frontend multi-systèmes. Voici de quoi il s'agit:
If you're annoyed by the dreadful out of focus bug at startup like me, make sure to try this build.
Also, the arcade emulator filename is no longer updated when checking for a new build at startup, only file date/time stamp and version info.

Fixed
- Obscure bug: after updating arcade emulator version info at startup, the filename with full path is somehow deleted from "\arcade\emulators.ini"; filename is no longer updated, just file date/time and version info
- Out of focus bug at startup still haunts us, so the new init zip images form is replaced by a simple panel directly in the main screen

Changed
- The window "Layout Dimensions" will no longer be restored at startup to avoid the dreadul "out of focus" bug (accessible in images popup menu)
Mercredi 02/05/18 à 13:00 par Firebrand
On reste à l'affût chez Tradu-France, la traduction en français de la dernière beta de WinUAE est déjà disponible.