Dimanche 11/11/18 à 13:32 par Firebrand
La dernière version de Snes9x est également disponible en français grâce à Tradu-France.
Dimanche 11/11/18 à 13:28 par Firebrand
Ce vétéran de l'émulation Super Nintendo continue de progresser. Les améliorations sont les suivantes:
Snes9x 1.57 has been released. Changes include a big update to the libretro port, several accuracy fixes, a few new features, and some deprecations.
Support for xml HLSL shaders in the Windows port and xml GLSL shaders in the GTK+ port has been removed. We recommend downloading and using shaders from the libretro repository at https://github.com/libretro/glsl-shaders instead.
For those packaging the GTK+ port, note that building with GTK+ 3 is now highly recommended over GTK+ 2 and should have no regressions. Also note that Wayland compatibility is implemented, which, if enabled, also requires GTK+ to have been compiled with Wayland support. The configuration file format for this port has changed to a simple .ini-style that can be edited by hand and is saved as snes9x.conf, keeping with the other ports' convention, in the user's config directory. This will cause any changes to settings made with previous versions to be reset to default. Frame-skipping options have also been simplified to remove never-used "fixed" rate settings and to simplify interaction with dynamic rate control and sound sync.

Changes:

Snes9x 1.57:
- Various seta010 emulation fixes. (kps501)
- Pass blargg OAM tests with proper write behavior. (BearOso)
- Prevent interlacing in BG modes 1-4. (BearOso)
- Corrected IRQ and NMI emulation to allow more games to work properly. (BearOso, OV2)
- Use 1 instead of 0 for initial PPU left window coordinate, fixing garbage in left column of pixels in some games. (turhope)
- Added interpolation option hack for DSP. (kps501, mudlord, BearOso)
- Added sprite-tile limit disabling hack. (Tatsuya79)
- Added libretro's fast snapshot support. (OV2)
- Add overclocking hack that increases IPC (retrotalker)
- Fix controller initialization issues preventing some games from using multitap. (retrotalker)
- Proper write behavior for register $2122. (BearOso)
- Fix transparency issue with Star Fox asteroids. (redguy, BearOso)
- Increase SuperFX speed to more accurately represent hardware, and fix bugs with Stunt Race FX and Yoshi's Island. (BearOso)
- Resize viewport on state load. (retrotalker)
- Many fixes to variables not saved or saved incorrectly in save states. (Dwedit)
- Pass decimal tests in blargg's math test ROMs. (BearOso)
- Remove memory leak in loadzip.cpp. (bonimy)
- Fix screen size not reverting when overscan is turned on then off mid-frame. (BearOso)

Win32:
- Include DirectDraw libraries and compile with DirectDraw support by default. (OV2)
- Add a link to DirectX installer in error message displayed
when the needed DirectX libraries can't be found. (OV2)
- Save window position when exiting via menu (OV2)
- Make custom ROM dialog resizable. (OV2)
- Fix various cheat dialog issues. (OV2)
- Remove d3d9x DLL dependency by using DirectXMath. (OV2)
- Remove rarely-used HLSL shader option. (OV2)
- Add InitialSnapshotFilename support. (BearOso)
- Disable BG toggle keys by default. (BearOso)
- Proper centering and cropping for overscanned and regular height modes. (OV2)
- Remove ability to disable the SNES's hires modes. (OV2)
- Added a Super Famicom-style icon resource to the EXE. (BearOso)

MacOS:
- Partial support for new cheats format. (OV2)
- Fix MacOS build. (marconett)
- Set default for new config options. (tmkk)
- Fix compilation on Mac OS Mojave (meepingsnesroms)

libretro:
- Massive update of libretro code to latest downstream. (fr500, kps501, OV2, twinaphex, BearOso, hiddenasbestos, m4xw, kxyxz, claudiuslollarius)

GTK+:
- Use datarootdir instead of datadir on install. (orbea)
- Fix --with-system-zip configure flag. (BearOso)
- Draw interlaced fields when ready. (BearOso)
- Initial Wayland support. (remicalixte)
- Allow XV only in X11. (BearOso)
- Add Wayland support via EGL. (BearOso)
- Significant rewrite of OpenGL driver to support newer standards. This won't work on cards < OpenGL ~1.5. (BearOso)
- Changed frameskip option to speed throttling option with simpler, but more relevant methods of speed control. (BearOso)
- Add support for relative-style save slots. (ichigo-0, BearOso)
- Remove XML config file format in favor of one more like Win32. Make joystick bindings and more options human- readable and editable. (BearOso)
- Try more device nodes when initializing OSS. (BearOso)
Jeudi 08/11/18 à 13:17 par Firebrand
Cet émulateur Commodore 64 pour MacOS continue ses mises à jour régulières. Voici les nouveautés du jour:
- Screenshots can be taken again (was broken in 3.1).
- Scanline emulation has been slightly improved.

Emu Loader v8.6.7 (version complète)
Mercredi 07/11/18 à 13:10 par Firebrand
Ce fronted multi-système a été mis à jour. Les améliorations sont les suivantes:
Maintenance update. Nothing much has been going on with EL latety.
Support for MAME .202 and .203, a couple cosmetic fixes in MAME Settings screen.
Support for Supermodel SVN 741 new Enable Quad Rendering setting and minor UI tweaks in Supermodel Settings screen.
It was brought to my attention that Emu Loader doesn't play arcade preview videos in a \videosnaps\ sub-folder. That's now supported.
One bad bug was finally reported in the frontend's audit system. It's been there for like a year, and nobody noticed it not even me. If a game set has a bios ROM with a different name then the ROM from the bios set, it wasn't correctly audited and set as missing. Many games were tagged as Missing ROMs.
NOTE: you must create MAME games list again to fix this bug in the audit system!

Fixed
- Renamed "Namco Super System 22" to proper "Namco System Super 22"
- Fixes to MAME Settings screen
*"Select" button for "Path to BGFX Files" was doing nothing
*"Select" button for "BGFX Shadow Mask Texture" filename was assigned to a different TEdit control
- Audit fix: bios ROMs in game sets were not tagged as bios ROMs in case the ROM name in game set is different than ROM name in bios set, causing them to appear as missing ROMs

Changed
- Updated madExcept library to v4.0.20
*for some weird reason, error dialogs show Windows 8 as the OS instead of Windows 10

Added
- Support for Supermodel SVN 741
*added new "Enable Quad Rendering" setting
*initial code for "NET" support; since this is preliminary emulator feature, not much can be done
- Support for MAME .202
*"Namco System 21" has been split into mulitple drivers, arcade filtering was not working anymore
- Support for MAME .203
*added "BGFX LUT Texture Name" setting
*added "HLSL Bloom LUT" settings
- Video previews for arcade games can be in an extra "\videosnaps\" sub-folder
*for arcade games only, MAME software lists and EmuCon systems are not supported
*you can select "d:\myvideos-mame-folder\" as your main vids folder; EL will automatically search videos in "d:\myvideos-mame-folder\videosnaps\")
*no support for multiple paths
Mardi 06/11/18 à 12:46 par Firebrand
La dernière version de cet émulateur Commodore 64 pour Windows a été traduite en français par l'équipe de Tradu-France.
Lundi 05/11/18 à 12:28 par Firebrand
On ne traine pas chez Tradu-France: la dernière beta de WinUAE est déjà disponible en français!
Tradu-France
Lundi 05/11/18 à 12:26 par Firebrand
Les micro-ordinateurs sont décidément à l'honneur aujourd'hui avec cette nouvelle beta de WinUAE, dont le développement semble plus lent que d'habitude. Les améliorations sont les suivantes:
- UNPK and PACK instructions (very rarely used) had code like "v = read_from_address(x) + read_from_address(y)" which has undefined function call execution order in C.
- 68030 MMU MOVEM to memory access fault retry special case fixed (b8). Amix boots normally again.
- 68030 MMU unaligned data access retries always used aligned access. (b8)
- AGA 32/64-pixel FMODE BPLxDAT writes are also now emulated accurately. Behavior is same as sprites, FMODE=3: first 16 pixels are last bus data, remaining 48 pixels are duplicate of written data. FMODE=2: first 16 pixels bus data, last 16 pixels written data. FMODE=1: written data duplicated. (Last bus data is first word of copper MOVE to BPLxDAT if copper was used to write to BPLxDAT). Writing to BPLxDAT when FMODE=3 and then lowering FMODE disables last 32 pixels (like sprites do) but this is not yet emulated.
- Yet another undocumented AGA bitplane special case. When FMODE=1/2 and modulo is added, bit 1 carry is ignored, for example 0x102 + 0x12 = 0x110. FMODE=3: same except bit 2 carry is ignored. This can only happen if bitplane pointer and/or modulo is "unaligned", not integer divisible by fetch size. Quite useless feature because unaligned bitplane pointers will always result in corrupted display. But at least (corrupted) display is now 100% accurate.
- Debugger memwatch points detected also debugger read or write accesses.
- Multi Evolution v2.2 ROM added. Does not seem to be RDB compatible, probably only v3.0+ are RDB compatible.

68030 MMU is still reported as having problems in some Next OS versions (Previous emulator) but I can't duplicate any problems with my usual test images (not even Amix). Please test any existing Linux/NetBSD etc.. in 68030 mode and report any differences between this beta and last official version.

Lundi 05/11/18 à 12:23 par Firebrand
Une nouvelle version de cet émulateur Apple // a été publiée; Voici les changements apportés:
- [Change #590] Apple II original: default to 48K (so no LC installed in slot-0).
*Added new command line switch: -s0 ('lc' is an alias for 'languagecard')
*When LC is in slot-0, it now use the Apple II+'s F8 (auto-start) ROM
- [Change #408] Support Saturn 64K and 128K cards in slot-0.
- Added new command line switch: -s0 ('saturn' is an alias for 'saturn128')
- [Bug #591] Save-state wasn't preserving the 'key-waiting' flag.
- [Bug #587] Debugger: disassembly for branch targets < $1000 were missing the leading '0'.

Lundi 05/11/18 à 12:21 par Firebrand
Cet émulateur Commodore 64 pour Windows a été mis à jour. Les améliorations sont les suivantes:
1) SID envelope timing fixes to accommodate VICE test programs in testprogs\SID\env_test\ . Also improved is the timing of gate attack during release and gate release during attack as measured by own test programs.
Messinfo.dat v0.203 (11.16)
Dimanche 04/11/18 à 13:49 par Firebrand
Les données des nouvelles machines non arcade de MAME v0.203 ont été ajoutées à ce fichier informatif qui termine traditionnellement la vague mensuelle de fichiers additionnels d'AntoPISA.
- 11.16 02/11/2018: Aligned files to 0.203 version.
Dimanche 04/11/18 à 13:46 par Firebrand
Une nouvelle version de cet émulateur Commodore 64 pour MacOS a été publiée. Voici les changements apportés:
- A modified version of the crt-pi shader (CRT for Raspberry Pi) is utilized for CRT monitor emulation. The shader parameters can be adjusted in the newly designed emulator preferences window in real-time.
- Added support for cartridges of type KCS and EasyFlash.
- Fixed VICE test fldscroll.prg which was broken since V3.0.
- Fixed a bug that caused the emulator to read wrong memory results from unmapped Ram in Ultimax mode.

Dimanche 04/11/18 à 13:45 par Firebrand
Cet émulateur GameBoy/GameBoy Color avant tout pensé pour OSX mais possédant également une version Windows très fonctionnelle a été mis à jour. Les améliorations sont les suivantes:
New/Improved Features
- Each debug console in Cocoa now displays the ROM file name in its titlebar
- SameBoy can now load RTC information from battery saves from different emulators including BGB, VisualBoyAdvance, and VisualBoyAdvance-M and vice versa. Older battery saves will automatically be converted

Accuracy Improvements/Fixes
- More accurate emulation of DAC charging and discharging. Fixes the buzzing sound heard in several games
- Fixed a bug where the left and right audio channel were swapped
- More accurate GDMA and HDMA timings
- Fixed several bugs, one of which is a regression, where channels 1 and 2 could play without a delay. Fixes missing audio in Gensan 2
- Correct emulation of enabling and disabling the volume envelope
- Correct emulation of a glitch where the volume envelope ticks when it usually wouldn't
- Compensate for CPU prefetch in DIV's initial value
- Correct emulation of turning the DACs on and off. Fixes missing audio in several games

Bug Fixes
- Fixed bugs in the debugger UI in Cocoa that made it unresponsive
- Fixed a bug where the libretro core didn't save and load the RTC properly
Le sondage de nvembre 2018: il est de retour! Pour vous jouer un mauvais tour...
Samedi 03/11/18 à 14:58 par Firebrand
- *tape sur l'épaule* Dis-moi, tu n'aurais pas oublié un truc?
- Quoi donc?
- Je ne sais pas... genre l'été est passé depuis une plombe?
- Nani?
- Ah si! Y'aurait peut-être un p'tit détail que tu devrais mettre à jour...
- Tu me perds...
- Dur l'Alzheimer. Tu ne t'occupes pas d'une certaine section sur le site?
- Euh............ oh mince!


Ouais bon, OK... les vacances d'été ne sont plus qu'un lointain souvenir... mais y'a pas de saison pour l'apéro.... non?
Entre oubli, manque d'inspiration et flemme, j'aurais possiblement oublié de mettre fin au sondage de l'été. Mieux vaut tard que jamais après tout! Comment ça, je ne suis pas crédible?

Vite, passons aux résultats: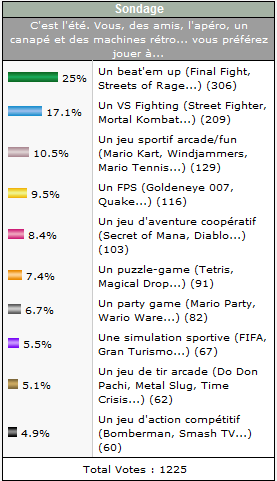 Le bourre-pif, c'est votre truc. L'art de la mandale n'a plus de secret pour vous, surtout lorsqu'il s'agit de faire bouffer du bitume aux punks qui ravagent le quartier.
Les sports fun gardent une bonne place dans votre cœur mais pour le reste, les avis sont assez partagés. A noter la contre-performance des Bomberman et compagnie pourtant réputés pour leur côté convivial (bon, je n'aime pas non plus mais c'est une autre histoire).


Pour Novembre, on va rester dans le thème de la castagne vu que vous aimez ça. On va voir parmi une sélection de beat'em all arcade lequel est votre préféré. La liste est forcément incomplète, le genre étant mine de rien très représenté, fatalement partiale, et votre petit préféré ne s'y trouvera peut-être pas. Mais tous les titres proposés sont bons, si vous ne les connaissez pas, je ne peux vous conseiller qu'aller les essayer dans notre section MAME!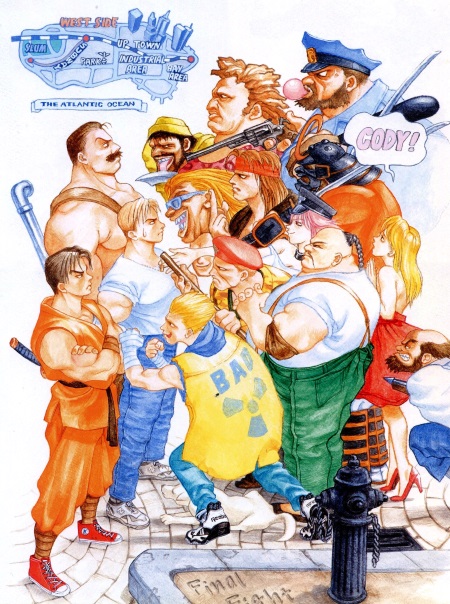 Artwork pour Final Fight, un grand classique.



Vous pouvez venir défendre votre "poing de vue" sur notre forum!
Fichiers additionnels pour MAME v0.203, 2èmer partie
Samedi 03/11/18 à 13:18 par Firebrand
Une nouvelle fournée de fichiers additionnels pour MAME est arrivée. Voici les changements connus:
Languages.ini v0.203 (0.92):
- 2018/11/02 0.92: Added 0.203 sets. Fixed 12 Spanish entries.
- 2018/09/30 0.91: Fixed an error in the language of game (paradar) (thanks to the report of a motoschifo).

Series.ini v0.203:
- Items RENAMED (1): (armchmp2) to (armchmp2o2).
- Series UPDATED (9): Ace Driver, Arm Champs, Pac-Man, Pang, Phoenix, Player's Edge, Pocket Gal, Street Fighter and Tetris.
NPlayers.ini et NPlayers32.ini v0.203
Vendredi 02/11/18 à 13:15 par Firebrand
Arrivés cette fois rapidement après la sortie de la dernière version de MAME en date, ces fichiers permettant de trier les jeux MAME par nombre de joueurs ont été mis à jour avec les données de MAME v0.203.
Fichiers additionnels pour MAME v0.203
Vendredi 02/11/18 à 13:12 par Firebrand
C'est au tour des premiers fichiers additionnels d'AntoPISA d'être mis à jour avec des données de MAME v0.203.
Vendredi 02/11/18 à 13:08 par Firebrand
Une version enrichie de ce fichier contenant des anectodes sur les jeux émulés par MAME a été publiée à l'occasion de la sortie de MAME v0.203.
Jeudi 01/11/18 à 14:36 par Firebrand
Cette version de MESS ne devait a priori plus être mis à jour, l'utilisateur devant faire quelques adaptations à MAMEUI pour avoir le même résultat. Mais son auteur a voulu malgré tout sortir une nouvelle version "une dernière fois" à l'occasion d'Halloween. Profitez-en.
Jeudi 01/11/18 à 14:33 par Firebrand
Ce traditionnel fichier informatif pour MAME a été mis à jour avec les données de MAME v0.203:
- Updated to MAME 0.203 (http://git.redump.net/mame/log/).
- Added Source/Listinfo changes
-. Newest Bugs (31st Oct)
-. Added WinArcadia 24.91 emulator infos.
- Added/Reorganized 'Recommended Games'.
- Fixed Mameinfo.dat infos.
Jeudi 01/11/18 à 14:31 par Firebrand
Cette version de MAME adapté aux compétitions de high-scores passe également à la v0.203.
Jeudi 01/11/18 à 14:30 par Firebrand
Les amateurs de MacOS peuvent également goûter aux nouveautés du dernier MAME en date.